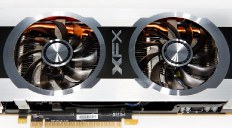 March 28th, 2012 at 7:58 am - Author
Last week we reviewed the excellent Sapphire HD7850 Overclock Edition and XFX have sent us their competing part – the XFX HD7850 Black Edition. This card features a even higher overclock, to 975mhz on the core with a custom two fan metal cooling solution. The big question, is this better than the Sapphire solution?
XFX and Sapphire have been head to head in battle for the last year, targeting various sectors with custom, overclocked graphics cards. The XFX HD7850 Black Edition looks a little more exciting than the HD7870 Black Edition we reviewed last week thanks to
more daring
core overclock speeds.
XFX are keen to highlight their 'Ghost Thermal technology'.
What is this? Well XFX say
"Through rigorous testing and analysis we have discovered the optimal thermal design that allows air to pass through the heatsink directly to the PCB and core components. Older enclosed designs often trapped the heat, creating a bottle neck at the exhaust, this can be remedied but at the cost of a higher fan speed which creates excess noise. Our design allows us to keep the fan speeds lower while allowing the heat to dissipate evenly throughout the card."
| | | | | |
| --- | --- | --- | --- | --- |
| Product | AMD HD7970 | AMD HD7950 | AMD HD7870 | XFX HD7850 BE |
| Core Clock speed | 925mhz | 800mhz | 1000mhz | 860mhz (975mhz) |
| Transistors | 4.31 billion | 4.31 billion | 2.8 billion | 2.8 billion |
| Stream Processors | 2,048 | 1,792 | 1,280 | 1,024 |
| Compute Performance | 3.79 TFLOPS | 2.87 TFLOPS | 2.56 TFLOPS | 1.76 TFLOPS |
| Texture Units | 128 | 112 | 80 | 64 |
| Texture Fillrate | 118.4 GT/s | 89.6 GT/s | 80 GT/s | 55.0 GT/s |
| ROPs | 32 | 32 | 32 | 32 |
| Pixel Fillrate | 29.6 GP/s | 25.6 GP/s | 32.0 GP/s | 27.52 GP/s |
| Z/Stencil | 128 | 128 | 128 | 128 |
| Memory Type | 3GB GDDR5 | 3GB GDDR5 | 2GB GDDR5 | 2GB GDDR5 |
| Memory Clock | 1,375mhz | 1,250mhz | 1,200mhz | 1,200mhz (1,250mhz) |
| Memory Data Rate | 5.5 GBps | 5.0 Gbps | 4.8 Gbps | 4.8 Gbps (5.0Gbps) |
| Memory Bandwidth | 264 GB/s | 240 GB/s | 153.6 GB/s | 153.6 GB/s |
XFX have opted for a generous 115mhz overclock on the core, raising the speed from 860mhz to 975mhz, this should have a dramatic impact on the overall performance. The 2GB of GDDR5 memory has been overclocked by 50mhz from 1,200mhz to 1,250mhz (from 4.8Gbps to 5.0Gbps effective).
The XFX HD7850 ships in dramatic box featuring an 'icy' logo in the center.
The bundle is extensive, featuring literature on the product and the excellent XFX power supply range, powered by partner Seasonic. XFX also include a Crossfire connector, a metal 'Black Edition' badge, and a 'Do Not Disturb' door sign.
The HD7850 Black Edition features a two fan cooler, built around a metal cooling system on black PCB. We love the white and black metallic cooler.
The XFX HD7850 requires
two
6 pin PCI power connectors, which breaks from the reference AMD configuration of a single connector. It is clear that XFX are pumping a bit more power into this card and they are allowing for higher potential clocks.
It features a single Crossfire connector meaning it can be used in 2 way configurations. If you want 3 or 4 way Crossfire, you need to buy 79xx series hardware.
The card is a dual slot design with a full sized DVI and HDMI port, and two mini Display Port connectors. It is Eyefinity capable. This card can simultaneously output multiple, independent audio streams from the HDMI and mini Displayport connectors at the rear of the card.
I must admit that the 'warranty invalid' stickers over the GPU backplate screws really annoy me. I understand this principle with a power supply, but I like to apply my own thermal paste to a GPU core and I don't want to invalidate my warranty by doing so. XFX really do need to join the other AMD partners and trust the end user a little more. Ditch this way of thinking guys, please.
The cooler on this card features four small copper heatpipes which run into two racks of aluminum fins on either side of the core. Sapphire used two very thick copper heatpipes on their HD7850 cooler.
XFX have enhanced the core clock speed from 860mhz to 975mhz, a huge increase. The memory also receives a 50mhz boost (200mhz effective) to 5Gbps. The Pitcairn GPU is manufactured on 28nm technology and this specific card features 32 ROPS, 1,024 shaders and 2GB of GDDR5 memory which is connected via a 256 bit memory interface.
On this page we present some super high resolution images of the product taken with the 24.5MP Nikon D3X camera and 24-70mm ED lens. These will take much longer to open due to the dimensions, especially on slower connections. If you use these pictures on another site or publication, please credit
Kitguru.net
as the owner/source. You can right click and 'save as' to your computer to view later.
To test today we are using our long standing Core i7 970 system, which is overclocked. We have a variety of hardware benchmarked on this system within the last couple of months which will make for an interesting market comparison.
Main Test System:

Processor
: Core i7 970 @ 4.6ghz
Graphics
:
XFX HD7850 Black Edition
Cooling
: Coolit Vantage
Motherboard
: MSI X58A-GD65
Chassis
: Thermaltake Level 10 GT
Power Supply
: Corsair AX1200
Memory
: 6GB ADATA @ 2133mhz 9-10-9-32
Storage
: Kingston SSDNow V+ 512GB Gen 2 SSD (Storage) / Crucial RealSSD C300 256GB (OS boot)
Comparison Cards
:
MSI R7970 Lightning Edition
HD7970
HD7950
XFX HD7870 Black Edition
HD7870
Sapphire HD7850 Overclock Edition
HD7850
HD6990 (880 core)
HD6970
HD6950
HD6870
Sapphire HD7770 1GHZ OC Edition
XFX HD7770 Black Edition S CFx
HD7770 CFx
HD7770
Sapphire HD7750 Ultimate Edition
HD6790
HD6770
HD6670
GTX590 SLi
GTX590
GTX580 SLi
GTX580
GTX570
Monitors
: Dell U3011
Software:
Windows 7 Enterprise 64 bit
Unigine Heaven Benchmark
3DMark Vantage
3DMark 11
Fraps Professional
Steam Client
FurMark
Games:
HomeFront
Alien V Predator
Dead Island
Tom Clancy HAWX 2
Resident Evil 5
Far Cry 2
F1 2011
Total War: Shogun 2
All the latest BIOS updates and drivers are used during testing. We perform generally under real world conditions, meaning KitGuru tests games across five closely matched runs and then average out the results to get an accurate median figure. If we use scripted benchmarks, they are mentioned on the relevant page.
Some game descriptions are edited from Wikipedia.
Unigine
provides an interesting way to test hardware. It can be easily adapted to various projects due to its elaborated software design and flexible toolset. A lot of their customers claim that they have never seen such extremely-effective code, which is so easy to understand.
Heaven Benchmark
is a DirectX 11 GPU benchmark based on advanced Unigine engine from Unigine Corp. It reveals the enchanting magic of floating islands with a tiny village hidden in the cloudy skies. Interactive mode provides emerging experience of exploring the intricate world of steampunk.
Efficient and well-architected framework makes Unigine highly scalable:
Multiple API (DirectX 9 / DirectX 10 / DirectX 11 / OpenGL) render
Cross-platform: MS Windows (XP, Vista, Windows 7) / Linux
Full support of 32bit and 64bit systems
Multicore CPU support
Little / big endian support (ready for game consoles)
Powerful C++ API
Comprehensive performance profiling system
Flexible XML-based data structures
We use the following settings: 1920×1080 resolution. Anti Aliasing off. Anisotrophy 4, Tessellation normal. Shaders High. Stereo 3D disabled. API: Direct X 11.
Fantastic results, and only slightly behind the more expensive HD7870, averaging 59.2 frames per second. The reference clocked HD7850 by comparison scores only 54.4 frames per second.
Futuremark released
3DMark Vantage,
on April 28, 2008. It is a benchmark based upon DirectX 10, and therefore will only run under Windows Vista (Service Pack 1 is stated as a requirement) and Windows 7. This is the first edition where the feature-restricted, free of charge version could not be used any number of times. 1280×1024 resolution was used with performance settings.
Very commendable results thanks to the hugely overclocked core, the HD7850 Black Edition manages to outperform the GTX570 by around 200 points. It is actually only 700 points lower than the last generation HD6970 flagship, which is impressive.
3DMark 11
is designed for testing DirectX 11 hardware running on Windows 7 and Windows Vista the benchmark includes six all new benchmark tests that make extensive use of all the new features in DirectX 11 including tessellation, compute shaders and multi-threading.
After running the tests 3DMark gives your system a score with larger numbers indicating better performance. Trusted by gamers worldwide to give accurate and unbiased results, 3DMark 11 is the best way to test DirectX 11 under game-like loads.
If you want to learn more about this benchmark, or to buy it yourself,
head over to this page.
Almost 6,000 points from a HD7850 in this Direct X 11 test is noteworthy, the reference card only scores 5,465 points. The GTX580 is around 500 points ahead, scoring 6,523 points.
HQV Benchmark 2.0
is an updated version of the original tool and it consists of various video clips and test patterns which are designed to evalute motion correction, de-interlacing, decoding, noise reduction, detail enhancement and film cadence detection.
There are two versions of the program, standard definition on DVD and high definition on Bluray. As our audience will be concentrating on HD content so will we.
This has a total of 39 video tests which is increased from 23 in the original and the scoring is also up from a total of 130 to 210. As hardware and software gets more complicated, the software has been tuned to make sure we can thoroughly maximise our analysis.
Read our initial analysis
over here
| | |
| --- | --- |
| | XFX HD7850 BE |
| Dial | 4 |
| Dial with static pattern | 5 |
| Gray Bars | 5 |
| Violin | 5 |
| Stadium 2:2 | 5 |
| Stadium 3:2 | 5 |
| Horizontal Text Scroll | 5 |
| Vertical Text Scroll | 5 |
| Transition to 3:2 Lock | 5 |
| Transition to 2:2 Lock | 0 |
| 2:2:2:4 24 FPS DVCAM Video | 5 |
| 2:3:3:2 24 FPS DVCam Video | 5 |
| 3:2:3:2:2 24 FOS Vari-Speed | 5 |
| 5:5 FPS Animation | 5 |
| 6:4 12 FPS Animation | 5 |
| 8:7 8 FPS Animation | 5 |
| Interlace Chroma Problem (ICP) | 5 |
| Chroma Upsampling Error (CUE) | 5 |
| Random Noise: Sailboat | 5 |
| Random Noise: Flower | 5 |
| Random Noise: Sunrise | 5 |
| Random Noise: Harbour Night | 5 |
| Scrolling Text | 5 |
| Roller Coaster | 5 |
| Ferris Wheel | 5 |
| Bridge Traffic | 5 |
| Text Pattern/ Scrolling Text | 5 |
| Roller Coaster | 5 |
| Ferris Wheel | 5 |
| Bridge Traffic | 5 |
| Luminance Frequency Bands | 5 |
| Chrominance Frequency Bands | 5 |
| Vanishing Text | 5 |
| Resolution Enhancement | 15 |
| Theme Park | 5 |
| Driftwood | 5 |
| Ferris Wheel | 5 |
| Skin Tones | 7 |
| Total | 196 |
A score of 196 points is class leading right now, the ideal solution for high definition media playback on a big screen.
F1 2011
is the newest Direct X 11 racing game from industry pioneers CodeMasters. The
2011 Formula One season
is the 62nd FIA Formula One season. The original calendar consisted of twenty rounds, including the inaugural running of the Indian Grand Prix before the cancellation of the Bahrain Grand Prix. Pirelli returns to the sport as tyre supplier for all teams, taking over from Bridgestone.
Red Bull Racing are the reigning Constructor's Champions. Red Bull Racing's Sebastian Vettel is the defending Drivers' Champion, one of five World Champions appearing on the grid.
Almost the same performance as the GTX570, averaging 62 frames per second.
Homefront's
PC version was developed by Digital Extremes, a Canadian developer responsible for numerous Unreal Tournament games and Bioshock ports. It received mixed reports, although Kitguru really likes the single player aspect of this title. The engine isn't the most demanding on the market, but it requires decent partnering hardware for solid frame rates at 1080p.
The XFX HD7850 Black Edition manages to outperform the HD6970, by a single frame per second with this engine.
Aliens V Predator
has proved to be a big seller since the release and Sega have taken the franchise into new territory after taking it from Sierra. AVP is a Direct X 11 supported title and delivers not only advanced shadow rendering but high quality tessellation for the cards on test today.
To test the cards we used a 1080p resolution with DX11, Texture Quality Very High, MSAA Samples 1, 16 af, ambient occulsion on, shadow complexity high, motion blur on. We use this with most of our graphics card testing so cards are comparable throughout reviews.
The healthy overclock manages to push the XFX Black Edition a little higher than the Sapphire version of the same card, falling in 2 frames per second behind the HD6950 with this particular Direct X 11 engine.
Dead Island
is a first person horror action-adventure video game developed by Techland and published by Deep Silver for Microsoft Windows. It is centered on the challenge of survival on a zombie-infested open world island with a major emphasis on melee combat. It is rather good fun, for a short while, but it becomes repetitive.
No performance concerns with this engine, averaging 131 frames per second at our chosen settings. The heavily overclocked Black Edition almost manages to equal the reference clocked HD6970 in this benchmark.
Tom Clancy's H.A.W.X. 2
is an arcade-style flight action game developed by Ubisoft Romania and published by Ubisoft. After the events of the first game, the H.A.W.X squadron is sent to Middle East, where a high level of violence is being registered, and the appearance of various insurgents leaders in various hotspots. The team also has to investigate the mysterious disappearance of Russian nuclear weapons. The player will be controlling three groups: one American (Hunter), one British (Munro) and one Russian (Sokov), each with its own pilots and supporting characters. There will also be references to other characters in the Tom Clancy universe.
We are testing in full DX11 mode with all settings to maximum.
The overclocked Black Edition allow the card to improve on the reference clocked solution by 4 frames per second. It is only a few frames per second slower than the reference clocked HD7870.
Resident Evil 5
, known in Japan as Biohazard 5, is a survival horror third-person shooter video game developed and published by Capcom. The game is the seventh installment in the Resident Evil survival horror series, and was released on March 5, 2009 in Japan and on March 13, 2009 in North America and Europe for the PlayStation 3 and Xbox 360. A Windows version of the game was released on September 15, 2009 in North America, September 17 in Japan and September 18 in Europe. Resident Evil 5 revolves around Chris Redfield and Sheva Alomar as they investigate a terrorist threat in Kijuju, a fictional town in Africa.
Within its first three weeks of release, the game sold over 2 million units worldwide and became the best-selling game of the franchise in the United Kingdom. As of December, 2009, Resident Evil 5 has sold 5.3 million copies worldwide since launch, becoming the best selling Resident Evil game ever made.
The Black Edition scores around 4 frames per second more than the overclocked Sapphire HD7850 and around 8 frames per second more than the reference clocked HD7850. The XFX card is actually only 8 frames per second behind the HD7870.
Far Cry 2
(commonly abbreviated as "FC2 or "fc2″) is an open-ended first-person shooter developed by Ubisoft Montreal and published by Ubisoft. It was released on October 21, 2008 in North America and on October 23, 2008 in Europe and Australia. It was made available on Steam on October 22, 2008. Crytek, the developers of the original game, were not involved in the development of Far Cry 2.
Ubisoft has marketed Far Cry 2 as the true sequel to Far Cry, though the sequel has very few noticeable similarities to the original game. Instead, it features completely new characters and setting, as well as a new style of gameplay that allows the player greater freedom to explore different African landscapes such as deserts, jungles, and savannas. The game takes place in a modern-day East African nation in a state of anarchy and civil war. The player takes control of a mercenary on a lengthy journey to locate and assassinate "The Jackal," a notorious arms dealer.
Far Cry 2 is still a popular game and the open world environment can be taxing on even the latest hardware available today.
Settings: 1920×1200, D3D10, Disable Artificial Intelligence(No), Full Screen, Anti-Aliasing(8x), VSync(No), Overall Quality(Ultra High), Vegetation(Very High), Shading(Ultra High), Terrain(Ultra High), Geometry(Ultra High), Post FX(High), Texture(Ultra High), Shadow(Ultra High), Ambient(High), Hdr(Yes), Bloom(Yes), Fire(Very High), Physics(Very High), RealTrees(Very High).
The XFX HD7850 Black Edition is still around 6 frames per second slower than the GTX570 with this nvidia slanted engine, but it manages to slightly outperform the HD6950 from the last generation of hardware.
Shogun 2
is set in 16th-century feudal Japan, in the aftermath of the Ōnin War. The country is fractured into rival clans led by local warlords, each fighting for control. The player takes on the role of one of these warlords, with the goal of dominating other factions and claiming his rule over Japan. The standard edition of the game will feature a total of eight factions (plus a ninth faction for the tutorial), each with a unique starting position and different political and military strengths.
We are using the built in benchmark which is available via the STEAM client for this game.
Great performance indicators from the XFX HD7850 Black Edition, averaging 48 frames per second at 1080p settings, this is 5 frames per second more than the reference clocked solution.
We have changed our method of measuring noise levels
. We have built a system inside a Lian Li chassis with no case fans and have used a fanless cooler on our CPU. We are using a heatpipe based passive power supply and an Intel SSD to keep noise levels to a minimum. The motherboard is also passively cooled. This gives us a build with completely passive cooling and it means we can measure noise of just the graphics card inside the system when we run looped 3dMark tests.
Ambient noise in the room is around 20-25dBa. We measure from a distance of around 1 meter from the closed chassis and 4 foot from the ground to mirror a real world situation.
Why do this? Well this means we can eliminate secondary noise pollution in the test room and concentrate on only the video card. It also brings us slightly closer to industry standards, such as
DIN 45635
.
KitGuru noise guide
10dBA
- Normal Breathing/Rustling Leaves
20-25dBA
– Whisper
30dBA
- High Quality Computer fan
40dBA
- A Bubbling Brook, or a Refridgerator
50dBA
- Normal Conversation
60dBA
- Laughter
70dBA
- Vacuum Cleaner or Hairdryer
80dBA
- City Traffic or a Garbage Disposal
90dBA
- Motorcycle or Lawnmower
100dBA
- MP3 player at maximum output
110dBA
- Orchestra
120dBA
- Front row rock concert/Jet Engine
130dBA
- Threshold of Pain
140dBA
- Military Jet takeoff/Gunshot (close range)
160dBA
- Instant Perforation of eardrum
The XFX HD7850 Black Edition is almost as quiet as the Sapphire solution, indistinguishable to the naked ear, but recordable with the equipment we use. It is an improvement on the reference solution, which is already quiet. The XFX fans only spin at 1,600 rpm when gaming, which is very low.
The tests were performed in a controlled air conditioned room with temperatures maintained at a constant 24c – a comfortable environment for the majority of people reading this.
Idle temperatures were measured after sitting at the desktop for 30 minutes. Load measurements were acquired by playing Crysis Warhead for 30 minutes and measuring the peak temperature. We also have included Furmark results, recording maximum temperatures throughout a 30 minute stress test. All fan settings were left on automatic.
The XFX HD7850 Black Edition cooler delivers slightly worse results than we would have expected, but we are beginning to wonder if XFX have tweaked the voltage a little to accommodate stability at these high overclock settings. Time to find out.
To test power consumption today we are using a Keithley Integra unit and we measure power consumption from the VGA card inputs, not the system wide drain. We measure results while gaming in Crysis Warhead and record the results.
In such an energy aware climate, AMD are making a big deal out of their new 'ZeroCore Power' technology. Many solutions today use power gating, clock gating and memory compression to reduce idle power requirements, but ZeroCore power technology can completely power down the core GPU while the rest of the system remains active.
XFX have tweaked this board to increase the voltage, which would explain the slightly higher temperatures on the previous page. We would assume this is a precaution on their part to ensure maximum stability at these overclocked speeds.
Today we used Catalyst Control Center for the overclocking results.
Due to Catalyst Control Center limitations we are limited to 1050 mhz on the core and 1,450mhz on the memory. We are confident that additional headroom is available.
The manual overclocking enhancements translate to a 300 points increase, to around 6,300 points. This is only 200 points less than a GTX580, which is fantastic considering the price point.
We have a soft spot for the AMD Pitcairn hardware, they are without question the best value for money discrete cards in the current AMD lineup. Last week we reviewed the Sapphire HD7850 Overclock Edition which impressed us, and XFX have answered their performance claims by releasing
an even
faster card.
The
XFX HD7850 Black Edition
is the fastest HD7850 on the market today, clocked at an incredible 975mhz on the core, and 1250mhz on the memory, this translates into noticeable real world performance improvements, increasing the frame rate by a clear margin with the games we tested today.
The card is exceptionally quiet, almost on the same level as the Sapphire card, thanks to the capable dual fan solution. XFX have volted this card a little to ensure stable performance at these increased clock speeds, this means that the temperatures are a little higher than the Sapphire card, although the performance improvements out of the box are easy to see. XFX have opted for the lowest possible noise, while maintaining excellent thermal results.
Overclocking the HD7850 has proven fruitful so far and we are limited only by the Catalyst Control Center, which has a 1050mhz core restriction at time of press. The XFX card can be cranked to the limits in Catalyst Control Center with complete stability, ensuring even more performance gains with minimal effort. We didn't even need to adjust the fan settings as the reference profile maintained low noise emissions.
If you want a mid range priced card, the market is flooded with quality solutions, and the XFX HD7850 deserves serious consideration. There is a small premium to pay for this card, retailing for
£227.99 inc vat
in the United Kingdom today.
The two best in this specific range are the Sapphire HD7850 Overclock and the XFX HD7850 Black Edition, the latter having a slight performance edge with faster 'out of the clock' core speeds.
Pros:
Beautiful cooler design.
Quiet.
high 'out of the box' speeds.
huge headroom on the core, maxing out CCC sliders.
Cons:
due to voltage tweak it runs a little hotter than Sapphire's card.
A little more expensive than some other options.