Mechanical keyboards have been popular with the gaming audience now for some time, but they can often be rather expensive. Corsair recently released their K40 gamer keyboard which uses more mainstream rubber domes but takes a leaf out of the 'mechanical playbook' by keeping the switches separate from one another. It also has macro keys and a fully fledged backlighting system. If your budget is limited to £50 is this the keyboard that you need to shortlist?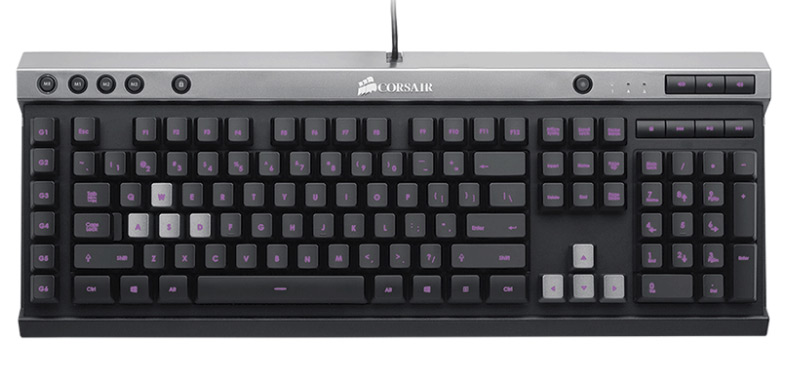 It is an attractive looking keyboard and on paper it seems quite impressive – but it compete in a landscape dominated by the mechanical switches of today?
Specifications and Performance
Rubber dome keys
RGB 16.8 million color backlighting with three levels of illumination
Six dedicated macro keys
36KB of onboard memory
Seven easy-access multimedia keys
STOP, PREVIOUS, PLAY/PAUSE, NEXT, MUTE, VOLUME UP, DOWN
Windows Lock key for uninterrupted game play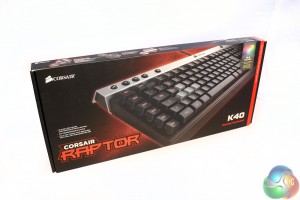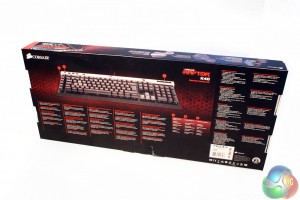 The Corsair Raptor K40 isn't the most expensive keyboard retailing today between £40 and £50, so understandably, the packaging is quite modest.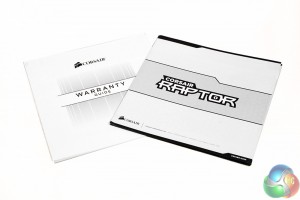 Inside, apart from the keyboard itself, you get the usual warranty card and small quick-setup booklet, with tips on how to use the official software.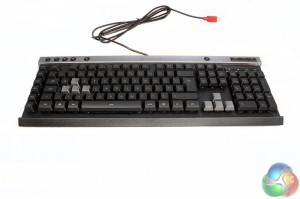 First impressions of the Corsair Raptor K40? It looks quite attractive and it is very light. It slides around quite easily on the desk, so it only requires a little nudge to adjust if it is not quite in the right place. That said if you are particularly heavy handed it will move around a little on a wooden desk.
Aesthetically it mixes black with a silver/bullet grey quite nicely and it clearly outlines the gamer WASD keys and the arrow keys in that same grey – making them stand out.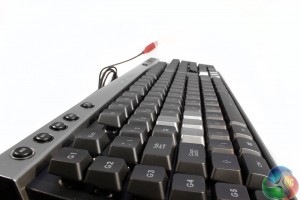 The individual keys are lovely and smooth, with a slight concave dip making them fit your finger tips nicely. The lettering is a cut out for the backlighting underneath, but even with it turned off, the keys are still perfectly readable in average lighting conditions.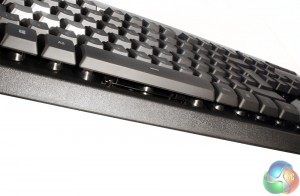 One aspect of the keys which does separate this board from some of its cheaper cousins is that despite being rubber domed, and therefore part of a full length membrane, Corsair has separated each of the switches off with plastic housings. They're also raised from the main body of the board, which should protect them from any spill damage.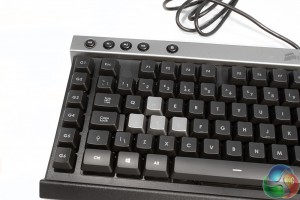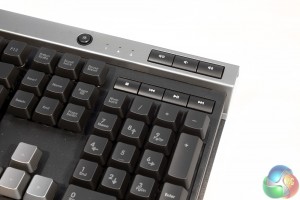 On the far left hand side, there's six macro keys that can be remapped to whatever you want in the bundled software. At the top, in the grey bar, are several profile switch keys, with a macro record key on the far left and a windows key-lock on the right. That lock turns off the function of the windows keys, so you can't accidentally hit them during a game and minimise what you're doing.
At the other end of the Raptor K40 – you have your numpad and other typical keys, along with media buttons. These are slightly different than all the others on the keyboard and work quite nicely, but need a little more force to activate.
Next to the lock-lights (which show whether caps, scroll and or num lock are activated) is the brightness key. That lets you control the backlighting brightness, giving you three options: off, dim or bright. If you want full customisation though, head to the software.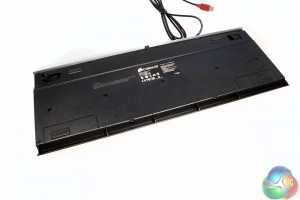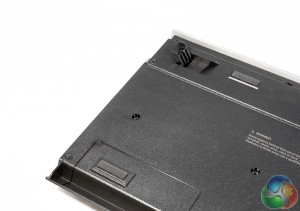 The back of the board is unremarkable, with traditional product information and rubber stamps to keep the keyboard as still as possible. Each of the top corners also has some little risers so you can have it at an angle if you choose.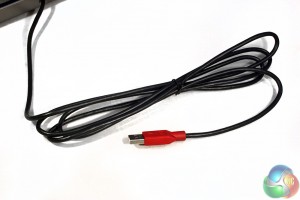 The cable is very basic. Rubber, no braiding and a basic nickel coating on the USB. It is bright red however, so you'll always know which one's which in the back of your rig. If you mount it on the floor, under a desk where it's dark, that can actually be quite useful.
When it comes to keyboard testing keyboards, we use real world experiences like gaming, typing and general usage to ascertain if the product is any good or not. This is of course quite subjective, so while we spend a lot of time on our reviews and consider them a good representation of what the product is like to use, we would still encourage you to try them for yourself, if you get the chance.
With that said, what's the Corsair Raptor K40 actually like?
I quite like it… for a non-mechanical. If you're a regular user of a mechanical board yourself, you'll understand what I mean, but for those of you that don't, let me explain.
Because mechanical keyboards use switches that don't require a full depress to activate (I.E., you don't have to bottom out) they're a lot less tiring to press. However with membrane boards the force needed can feel somewhat excessive. I found the actuation force required for the Corsair K40 to be quite high. It's not astronomical, but my hands have gotten tired a few times while using it.
Mechanical switches depress in a linear fashion, while membrane keys don't move at all … until they suddenly activate.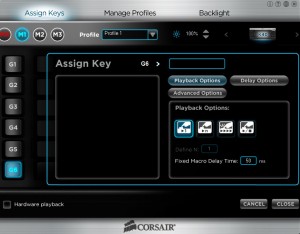 Keys can be remapped in the software, but only the six on the far left
These issues with the switches transferred over into the game testing. While I thought the K40 was responsive, it is not not a patch on a decent mechanical keyboard. The fact that the keys need to be completely depressed before activating, means you're at a slight disadvantage. It's not as massive issue, but it is distracting. Likewise it can take you a while to get used to the extra force required to press the key all the way down.
It can also get a bit tiring in arcade games or those that require multiple presses of the same key in rapid succession, but for the most part it worked pretty well. I think over time I would adjust to it, but throughout the testing I did sometimes find myself wishing for more responsive keys.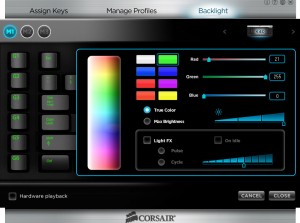 The lighting options are extensive and you can pick pretty much any colour under the sun
While typing, I actually found this keyboard really nice to use. However, as with the gaming tests I did sometimes find it a little tiring. My only other concern is the key spacing – the gap between the number and function keys was oddly small. Several times while typing I went for the backspace key and found myself hitting F11 or F12.
The keys are finished in a lovely soft plastic coating which is usually only found on high end gaming mice. Good choice Corsair.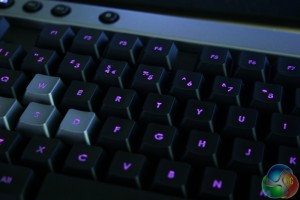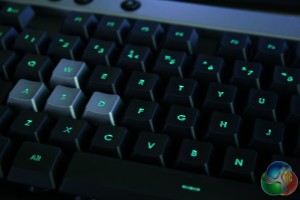 There's a lot of different colour options available for the backlighting
One odd thing I did notice is that due to the slightly increased height of the keys, I actually had to readjust my sitting position so that I wasn't angling my arms upwards. This could be because I am quite short, but that near inch rise all of the keys have – to separate them and protect from spillage – did require some getting used to.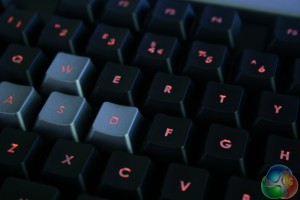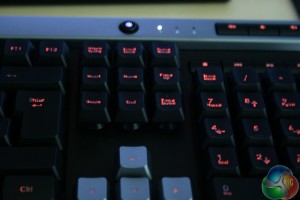 While great from overhead, the backlighting is a bit patchy when you're sat in a normal typing position
When it comes down to it, the Corsair Raptor K40 is a pretty good keyboard, but it really is outclassed by a quality mechanical keyboard. It has the most impressive backlighting I've seen in a retail keyboard and comes with built in memory for profile storage, dedicated macro keys and a good selection of media keys.
The function keys and a few others are a little too close together for my liking and if I was being critical I would like the rear risers to give the keyboard a little more lift – but these are small complaints.
The real question for me though – 'Is it going to replace my beloved mechanical?' No, very unlikely. The Corsair K40 is a solid membrane keyboard, but feels a little costly at £40 when the best feature is really the fantastic backlighting capabilities.
The Corsair Raptor K40 can be found on
OCUK for £40
at the time of writing. If offers reasonable value for money, but for only £10-£15 more you can buy a high grade mechanical board which will easily outperform the K40.
Discuss on our Facebook page, over
HERE
.
Pros
Fast and easy to type on.
Keys have a nice finish.
Media keys, built in memory.
Fantastic backlighting.
Cons
Not as satisfying to use as a mechanical keyboard.
Response times aren't as good as comparable priced mechanical.
Activation feels heavy and can tire fingers.