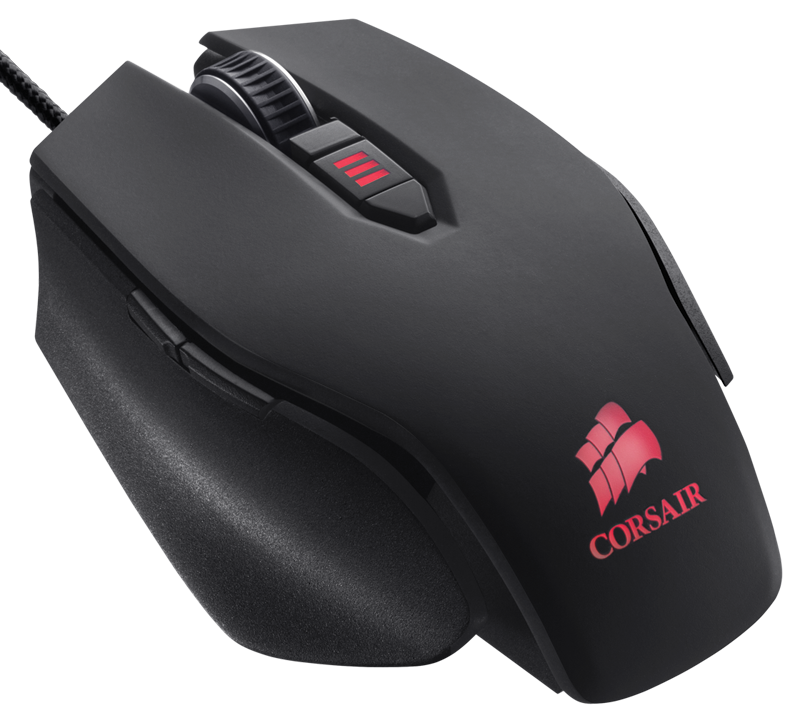 Features
Adjustable weight system.
FPS optimised gaming sensor. DPI: 5000.
Extra Large PTFE glide pads.
Control panel software.
Seven programmable buttons.
Onboard profile storage.
1000Hz response time.
High mass scroll wheel.
Instannt DPI switching with indicator LED.
Comfortable for hours of gaming.
The packaging for the Raptor M45 has that nice mixture of glossy and matt card, giving it quite a quality feel.
On the back is a to scale image of the mouse itself, with highlighted features such as a heavy scroll wheel, DPI switching button and the fact that the left and right mouse buttons use Omtron switches, which curiously Corsair does not mention in the main feature list.
In a nice touch, the box is sealed with magnets, so you can pop it open to have a look at it close up, as well as read about a few more of the features on the left hand panel. It is all quite stylishly done and shows a surprising level of quality for a mouse that can be found for around £40.
Along with the mouse, there are detachable weights, which come pre-fitted and the usual selection of warranty, quick start guide and other information.
Being a fan of understated styling I have to admit I really liked the look of the Corsair M45 as soon as I took it out of the packaging. It has a really clean finish – matt black, silver and red (when lit up) colour scheme, with the main body is coated in silicon.
The sides on the other hand, are a rough, almost fine-grained, sandpaper like plastic which while sounding horrible in theory, actually works really well. You can rubberise your grips all you want but textured plastic is just as good for grip when it's dry. I could see this mouse becoming a little less grippy if you were sweating buckets, but even I don't sweat that much.
The left hand side also features a pair of side buttons which are almost invisible thank to the colour scheme.
The right hand side is almost identical to the left, featuring just a slight reshape of the rough plastic.
At the front there are the usual two buttons, along with a silver rimmed scroll wheel that makes a nice focal point, visually. It features no side switching, but does have the usual middle mouse click and a rubber wheel for extra grip. It turns quite slowly, but this gives greater control and perhaps more importantly – it does so absolutely silently.
Sitting just behind it are two buttons, DPI up and down, with an LED indicator in-between the lights up when the mouse is powered on (see next page).
I particularly like how there is no seam for either front buttons. They're made from the same, single piece of material as the rest of the mouse's body. This gives it a very clean look.
Flipping the raptor over and lifting up its skirt, the optical sensor is dead center, surrounded by three weights, which screw in and out. They do require a screwdriver to remove, so do not worry about them coming loose mid-game.
At the front, rear and sides, there are several PTFE pads. This stands for Polytetrafluoroethylene, which to you and me is teflon … but because of a copyright claim on that particular brand of plastic, everyone is required to call it PTFE.
The cable is braided which is nice to see and Corsair hasn't wasted any money gold leafing the USB connector. However, it has made its header bright red, which can be handy when you're routing around the back of your PC trying to find the right one.
To test the Corsair Raptor M45, I had the enviable task of playing around with it for a week, which meant spending some afternoons in deep 'test' sessions of Age of Empires and Seven Kingdoms. I played a few other games too, mixing in first person shooters, puzzlers and strategy games in equal measure, as well as using it for my day to day work, photoshop, online browsing etc.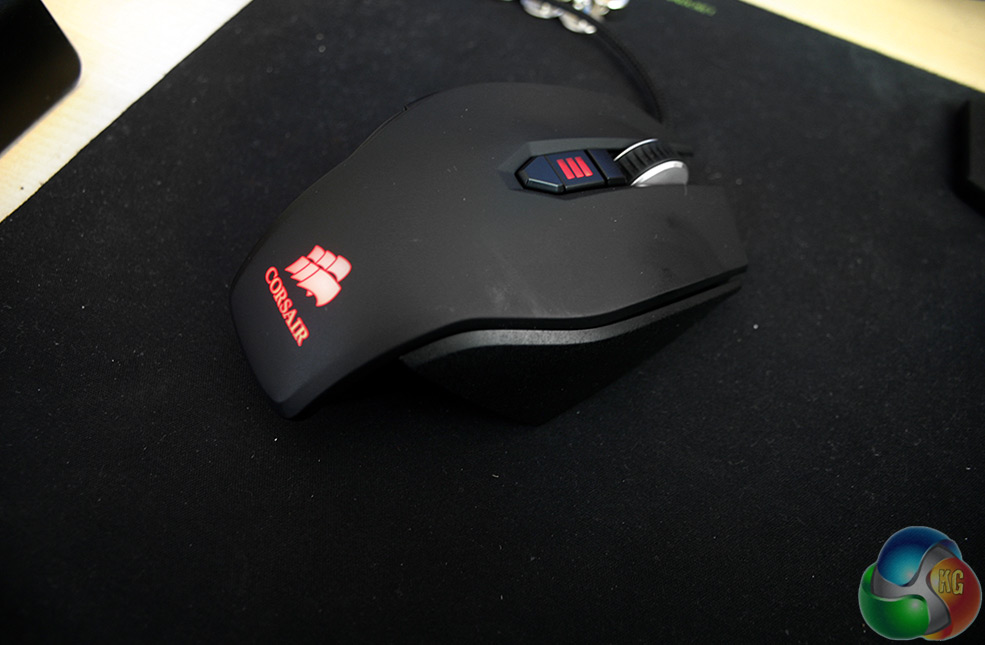 The lighting on the M45 is simple, but effective
Since I am traditionally a bit of a finger/claw grip gamer, transitioning to the M45 was a breeze and despite its somewhat ergonomic shape, I'd put its gaming ability up there with some of the better ambidextrous mice out there. It's fast and accurate and thanks to the simple weight options, you can alter its balance slightly, as well as the energy required to move it around.
With the weights in, it can be a little heavy after a few hours use, meaning you may you the need perform a nice, exaggerated wrist rotation every now and again. However, with a couple taken out, or with all of them removed altogether, it becomes lively and incredibly easy to slide about with your finger tips.
Because of this, I found the M45 a pretty solid gaming mouse, regardless of the game or genre. At 5,000 DPI at maximum, it's more than enough to cross a 1080p display in less than an inch, which unless you're fine tuning for pro gaming, should be more than sensitive enough for most players. Unlike some of the super-high sensitive sensors also, it remains accurate no matter how much you whip it around.
However, one problem that this mouse does suffer from is inaccuracy when used without a good mouse mat. This is a sad case of an optical sensor just not being capable without a specifically designed surface. Fortunately Corsair do offer an alternative in the M65, which costs about £15 more, but comes fitted with a laser sensor which shouldn't have the same issues.
The only problem there is that you'll probably need to spend almost as much on the mouse mat and M45, as you would on the M65 in the first place, so consider your options, especially if you don't currently play with a mouse mat.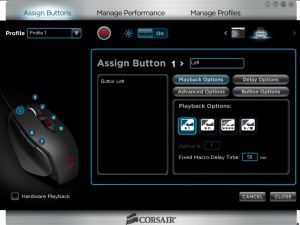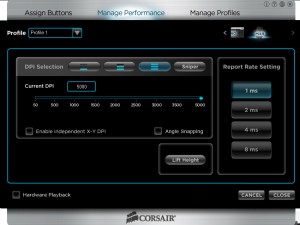 In other situations though I found the M45 equally good. It's accurate, in intensive tasks like Photoshop and you can scale down the DPI on the fly when you need it. Adjusting all of its settings and remapping the keys was a breeze in the bundled software, which even lets you switch between the mouse and other installed Raptor products without closing the software down if you want.
If I was being nitpicky, which I suppose it is my job to do, I'd point out that the scroll wheel is a little loose and sometimes rattles back and forth on its spindle. This isn't the end of the world of course, but it's noticeable and unnecessarily detracts from the overall quality of the mouse.
All in all though, the M45 has impressed me. For a mouse that costs less than £40, it's performed just as well as much more expensive models. It does fall down in its support of different surfaces, requiring a mouse mat – in my case cloth – to work properly and it certainly isn't quite as sensitive as some mice out there. At least Corsair don't seem to be chasing ludicrously high DPI numbers, just for marketing purposes.
The Corsair M45 can be found on
Overclockers.co.uk
for £38. It's bigger brother
the M65
can be found there for £53.
Discuss on our Facebook page, over
HERE
.
Pros
Fast and accurate.
Classy, understated looks, nice lighting.
Removable weight options.
Comfortable and allows for multiple grip types.
Cons
Doesn't work properly without a mouse mat.
Laser alternative is only a few pounds more.
Scroll wheel is a little loose.