The Oculus Rift has had plenty of outings in the past couple of years, but Sony's competitor product, Project Morpheus, hasn't had anywhere near the same kind of exposure. Looking to change that it seems, Editor at The Verge Joshua Topolsky took along a couple of pairs of Morpheus and the PlayStation's Move Motion controls to the Jimmy Fallon show recently, giving the host and guest Channing Tatum a chance to play with the new virtual reality tech.
If you need an excuse to watch the video beyond seeing Morpheus in action, know that Fallon freaks out and air-punches a medieval dummy until its head falls off.
Skip to the 2:00 mark if you want to get Straight to Project Morpheus, though there is also some information on an interesting camera called the Lytro Illum, which captures more than your traditional pixels.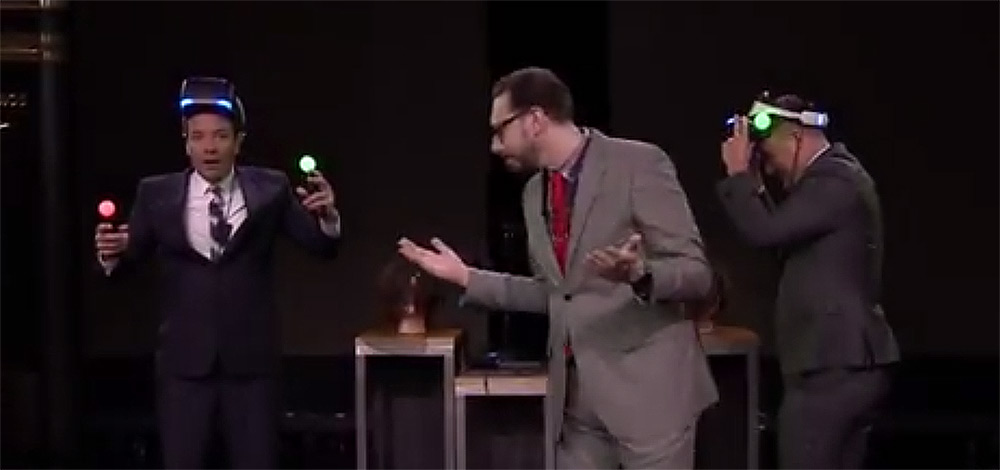 Hey look, you get "Rift-face" on the Morpheus too
Sony is expected to be showing off Morpheus this week at its E3 show, potentially highlighting its compatibility with upcoming PS4 games and no doubt clarifying any issues people had with its initial unveiling – like the fact that the Rift supposedly has a wider viewing angle.
Sony's demo will be taking place at 6PM PST, which works out to 2AM here. If you're staying up for it, you can
watch it live here
.