Today we follow on from our recent analysis of the remarkable
ASUS ROG Swift PG278Q 144hz G-Sync monitor
and focus on the partner card for that review – the Asus GTX780 Ti ROG Matrix. ASUS claim this card is created around 'hand chosen cores' to ensure the highest levels of performance. Asus use a sophisticated 14 phase power system, with digital voltage regulation and the highest grade Japanese made 10k black metallic capacitors. The GTX780 Ti ROG Matrix is supplied in a highly overclocked state, but can it justify the equally high
£649.99 asking price
?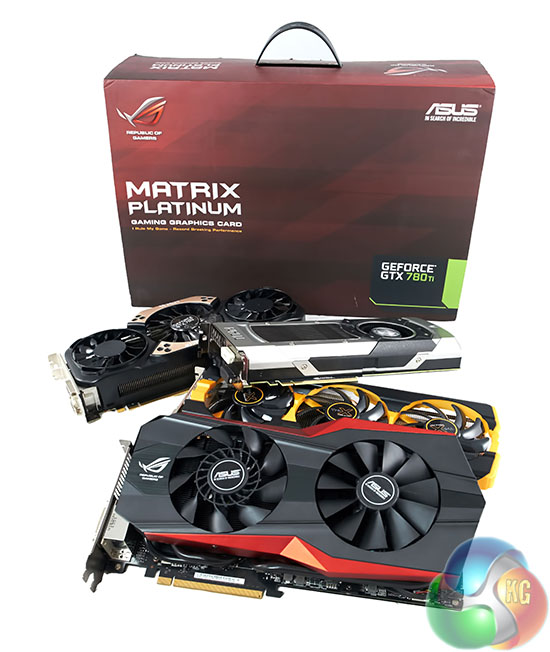 Today we pit the Asus GTX780 Ti ROG Matrix against a handful of the fastest cards that money can buy, at both 1600p and Ultra HD 4K resolutions.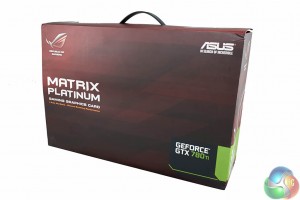 The Asus GTX780 Ti ROG Matrix graphics card arrives in a red Republic Of Gamers styled box with just the name visible on the front.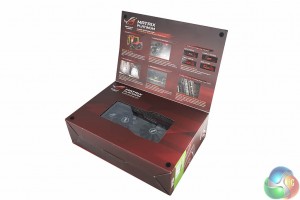 The box opens up to highlight the card behind a tough plastic cover. ASUS focus on the many key selling points of this particular graphics card.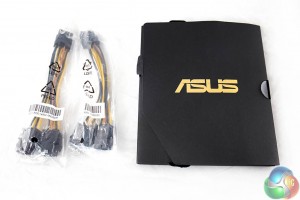 Our sample had been around the block a little, so I am not sure if this is the full bundle you are likely to receive with the retail version of the card. Just a couple of power converter cables and literature in the box.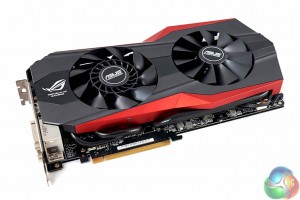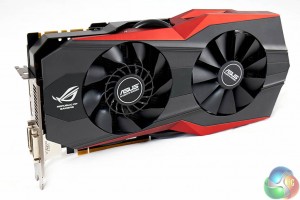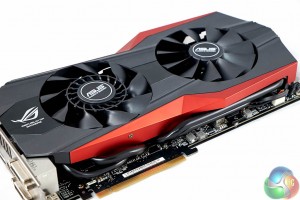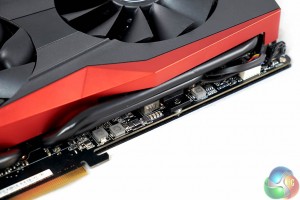 The GTX780Ti ROG Matrix is certainly a looker. The metal red and black cooler is both heavy and beautifully finished.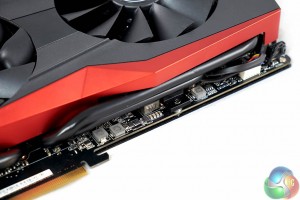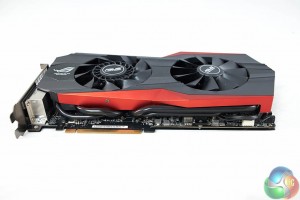 Yes, they have even painted the heatpipes black to match the colour scheme. First time (in memory) we have seen a company do this – fantastic!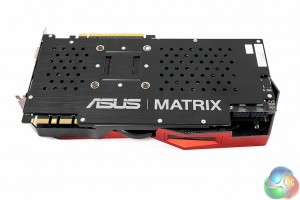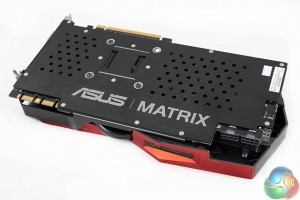 The card ships fully equipped with a metal backplate. This will offer additional cooling while protecting the PCB against damage.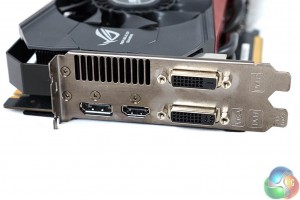 Connectivity is pretty much perfect. No fiddly 'mini' headers – just two Dual Link DVI connectors, alongside a full sized HDMI and DisplayPort connector.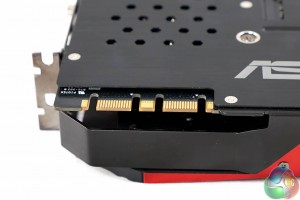 Two SLi connectors, if you want to push the frame rates even higher.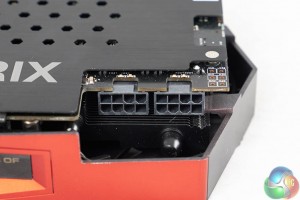 The GTX780Ti ROG Matrix takes power from two 8 Pin PCIe connectors, shown above. The first header on the left is actually rather difficult to work with, as it is recessed and very close on two sides to the metal backplate.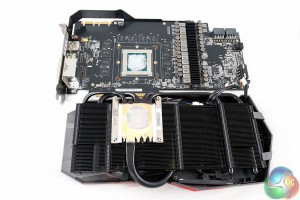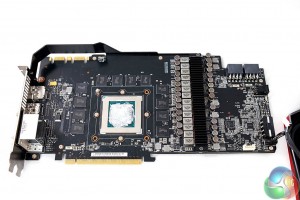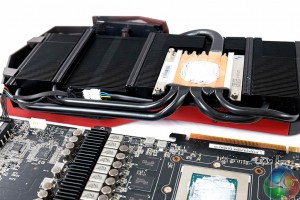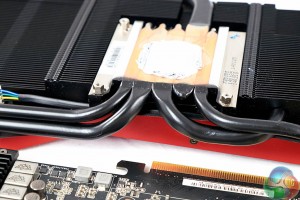 Asus are using a hefty heatsink and our close up shots show how the copper heatpipes have been treated with black heat resistant paint. Five very thick heatpipes run from both sides of the copper base into the multiple blocks of aluminum fins – which are also painted black. Asus are using 3GB of high grade SKHynix memory.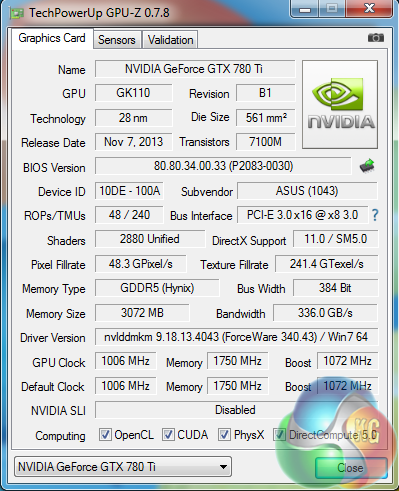 A GPUz overview of the Asus GTX780Ti ROG Matrix. The GK110 core is built on the 28nm process and has 48 ROPs, 240 Texture units and 2880 Cuda Cores. The core is overclocked to 1,006mhz and the 3GB of GDDR5 memory runs at 1,750mhz (7Gbps effective).
On this page we present some high resolution images of the product taken with a Fuji XT1 and a Sigma SD1 camera. These will take much longer to open due to the dimensions, especially on slower connections. If you use these pictures on another site or publication, please credit Kitguru.net as the owner/source.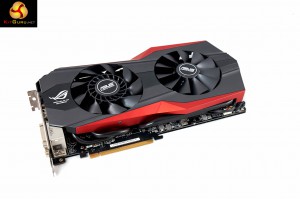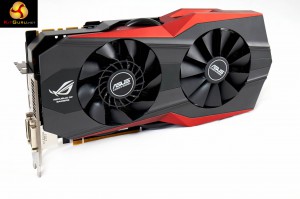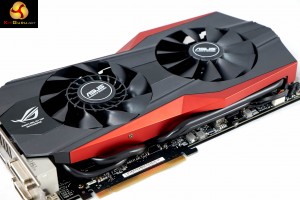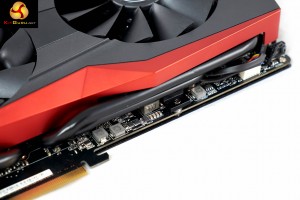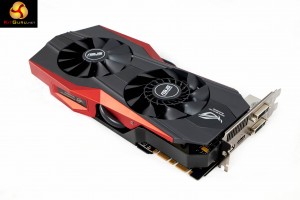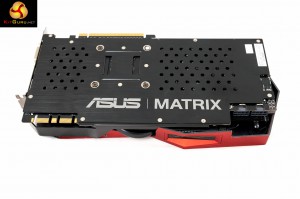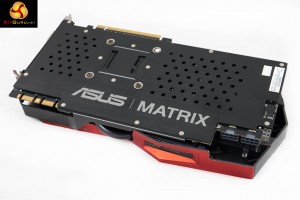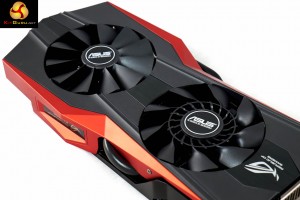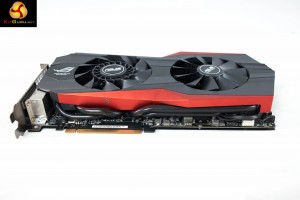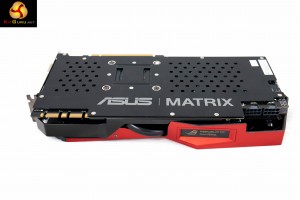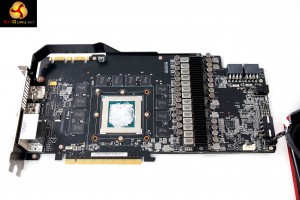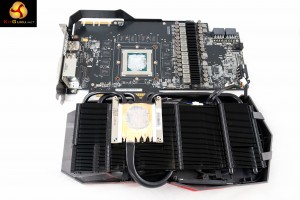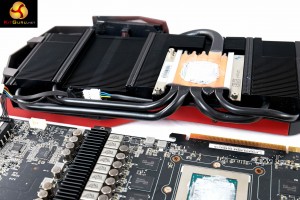 Today we test with the AMD Catalyst 14.6 Beta driver and the Nvidia Forceware 340.43 driver.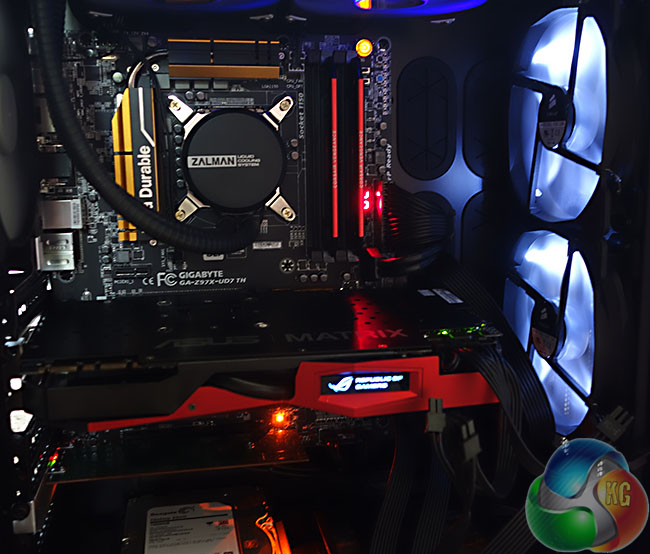 We are using the new KitGuru Test rig, built to our specifications by DINOPC. You can see the hardware breakdown of this system over
HERE
.
We are featuring results today with an Apple 30 inch Cinema HD Display at 2560×1600 resolution and an
Asus PQ321QE Ultra HD 4K screen
running at 4K 3840 x 2160 resolution.
Comparison graphics cards: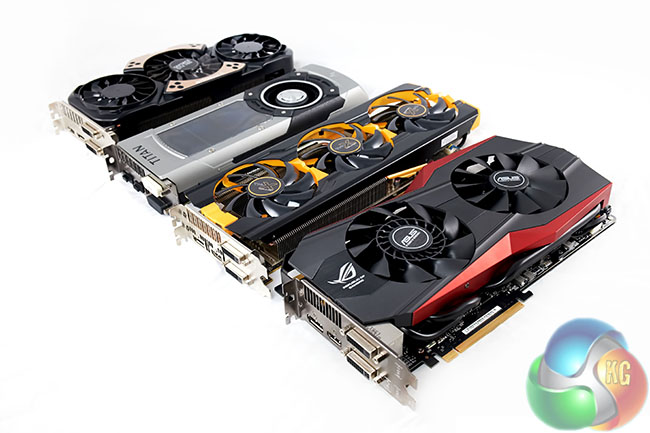 Nvidia GTX Titan Black (890 mhz core / 1,750 mhz memory)
Palit GTX 780 JetStream 6GB (902 mhz core / 1,502 mhz memory)
Sapphire R9 290X Tri-X OC (1040 mhz core / 1,300 mhz memory)
Software:
Windows 7 Enterprise 64 bit
Unigine Heaven Benchmark
Unigine Valley Benchmark
3DMark Vantage
3DMark 11
3DMark
Fraps Professional
Steam Client
FurMark
Games:
Tomb Raider
Grid AutoSport
Wolfenstein: The New Order
Watchdogs
Total War: Rome 2
All the latest BIOS updates and drivers are used during testing. We perform generally under real world conditions, meaning KitGuru tests games across five closely matched runs and then average out the results to get an accurate median figure. If we use scripted benchmarks, they are mentioned on the relevant page.
Some game descriptions edited with courtesy from Wikipedia.
Futuremark released 3DMark Vantage, on April 28, 2008. It is a benchmark based upon DirectX 10, and therefore will only run under Windows Vista (Service Pack 1 is stated as a requirement) and Windows 7. This is the first edition where the feature-restricted, free of charge version could not be used any number of times. 1280×1024 resolution was used with performance settings.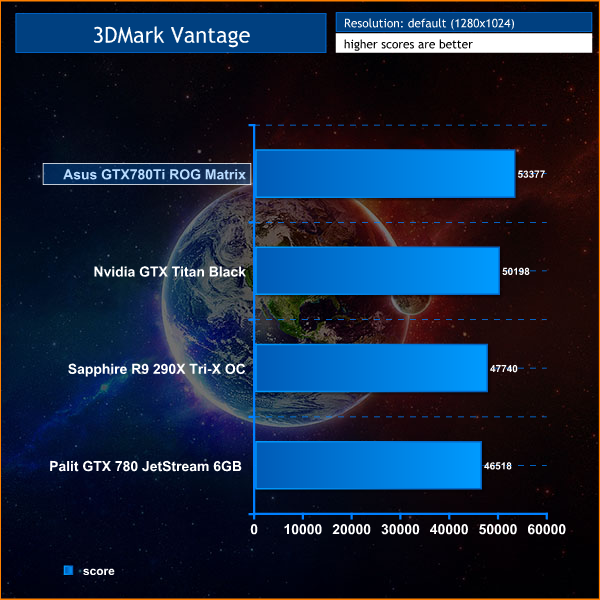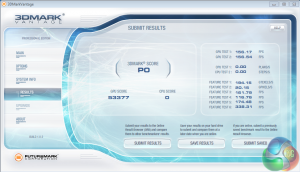 The ASUS GTX780Ti ROG Matrix is easily out in front in this older Direct X 10 benchmark, scoring 53,377 points.
3DMark 11 is designed for testing DirectX 11 hardware running on Windows 7 and Windows Vista the benchmark includes six all new benchmark tests that make extensive use of all the new features in DirectX 11 including tessellation, compute shaders and multi-threading. After running the tests 3DMark gives your system a score with larger numbers indicating better performance. Trusted by gamers worldwide to give accurate and unbiased results, 3DMark 11 is the best way to test DirectX 11 under game-like loads.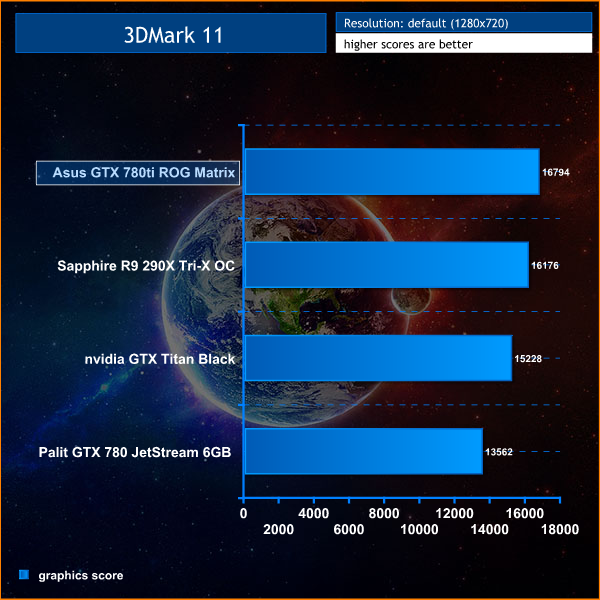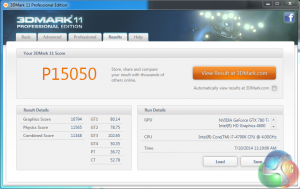 Excellent results from the Asus GTX780 Ti ROG Matrix card, claiming top spot in this last generation Direct X 11 benchmark.
3DMark is an essential tool used by millions of gamers, hundreds of hardware review sites and many of the world's leading manufacturers to measure PC gaming performance.
Futuremark say "Use it to test your PC's limits and measure the impact of overclocking and tweaking your system. Search our massive results database and see how your PC compares or just admire the graphics and wonder why all PC games don't look this good.
To get more out of your PC, put 3DMark in your PC."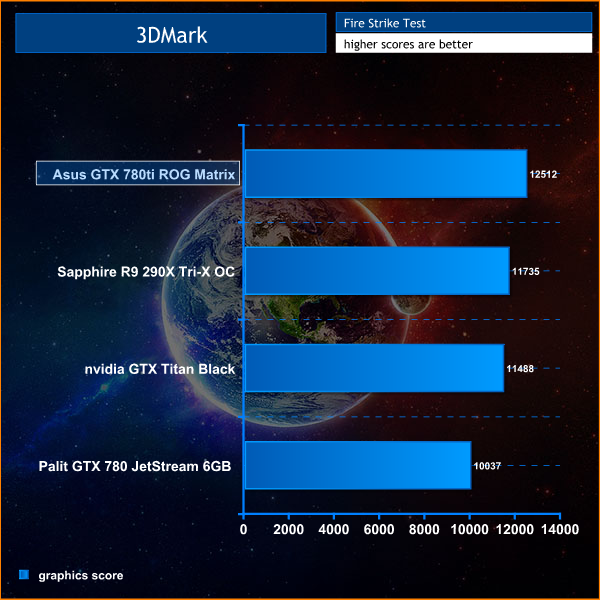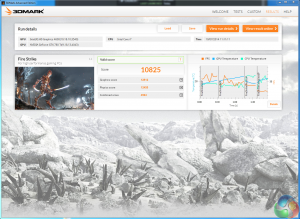 The Asus GTX780 Ti ROG Matrix claims top spot in the latest Direct X 11 benchmark from Futuremark, scoring 12,512 points.
Unigine provides an interesting way to test hardware. It can be easily adapted to various projects due to its elaborated software design and flexible toolset.
A lot of their customers claim that they have never seen such extremely-effective code, which is so easy to understand.
Heaven Benchmark
is a DirectX 11 GPU benchmark based on advanced Unigine engine from Unigine Corp. It reveals the enchanting magic of floating islands with a tiny village hidden in the cloudy skies. Interactive mode provides emerging experience of exploring the intricate world of steampunk.
Efficient and well-architected framework makes Unigine highly scalable:
Multiple API (DirectX 9 / DirectX 10 / DirectX 11 / OpenGL) render
Cross-platform: MS Windows (XP, Vista, Windows 7) / Linux
Full support of 32bit and 64bit systems
Multicore CPU support
Little / big endian support (ready for game consoles)
Powerful C++ API
Comprehensive performance profiling system
Flexible XML-based data structures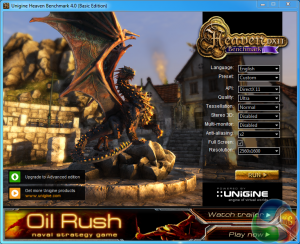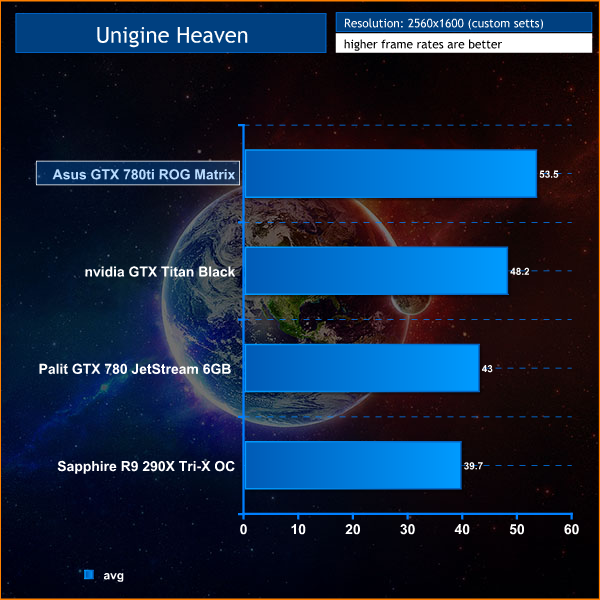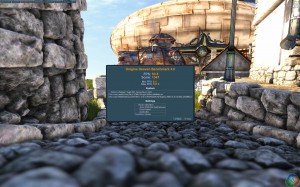 Excellent performance from the ROG Matrix card, averaging almost 54 frames per second.
Valley Benchmark is a new GPU stress-testing tool from the developers of the very popular and highly acclaimed Heaven Benchmark. The forest-covered valley surrounded by vast mountains amazes with its scale from a bird's-eye view and is extremely detailed down to every leaf and flower petal. This non-synthetic benchmark powered by the state-of-the art UNIGINE Engine showcases a comprehensive set of cutting-edge graphics technologies with a dynamic environment and fully interactive modes available to the end user.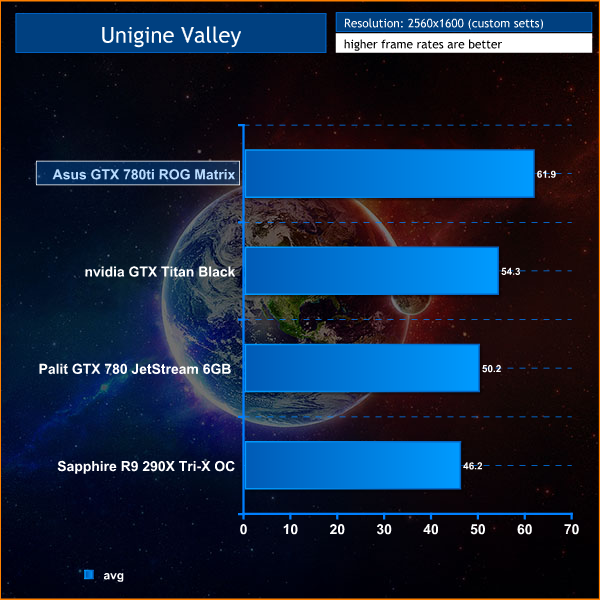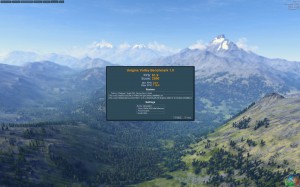 The Asus GTX780 Ti ROG Matrix tops the chart, by a considerable margin, averaging 62 frames per second.
Tomb Raider received much acclaim from critics, who praised the graphics, the gameplay and Camilla Luddington's performance as Lara with many critics agreeing that the game is a solid and much needed reboot of the franchise. Much criticism went to the addition of the multiplayer which many felt was unnecessary. Tomb Raider went on to sell one million copies in forty-eight hours of its release, and has sold 3.4 million copies worldwide so far.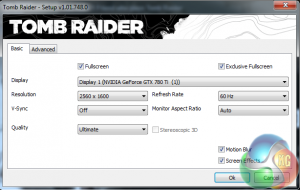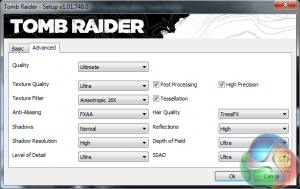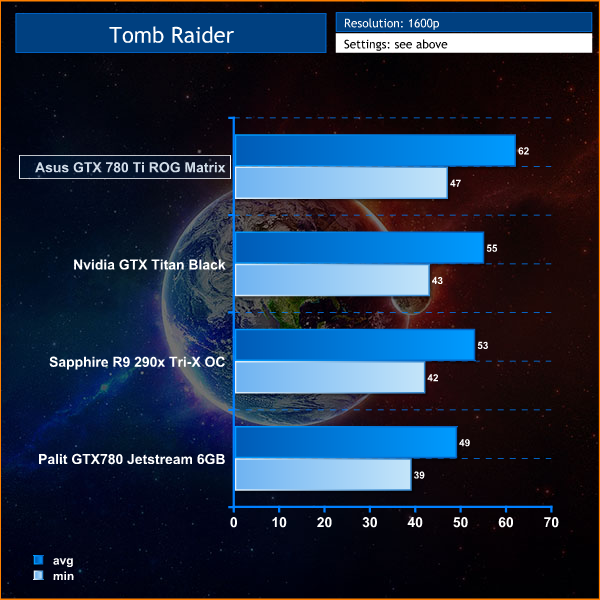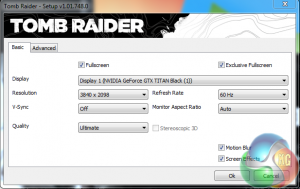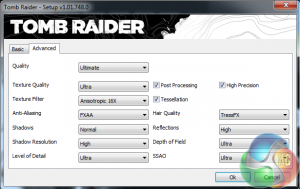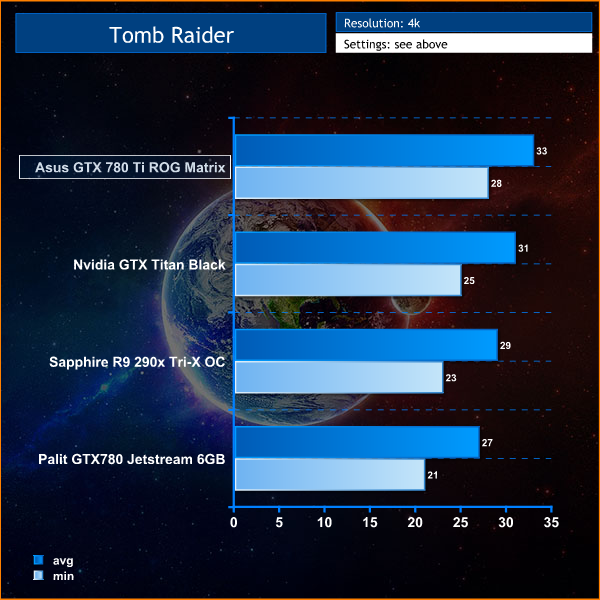 Overall performance from the Asus GTX780 Ti ROG Matrix is excellent. At Ultra HD 4K it is the only solution to maintain a frame rate above 25 at all times, even with ULTIMATE image quality settings enabled.
Watch Dogs is an action-adventure game played from a third-person perspective. Players complete missions—linear scenarios with set objectives—to progress through the story. Outside of missions, players can freely roam the open world of Chicago. The world may be fully explored from the beginning of the game without restrictions, although story progress unlocks more gameplay content. This game has (so far) been poorly optimised for the PC platform, having been ported over from the Playstation 4 and Xbox One consoles. We have been unwilling to include this game in our usual suite of game tests, but it is very popular with our audience and included it today for the first time.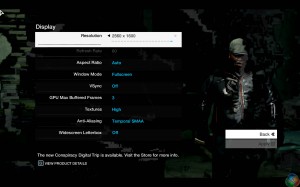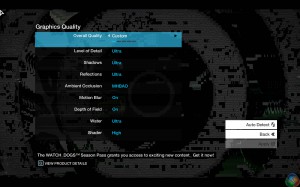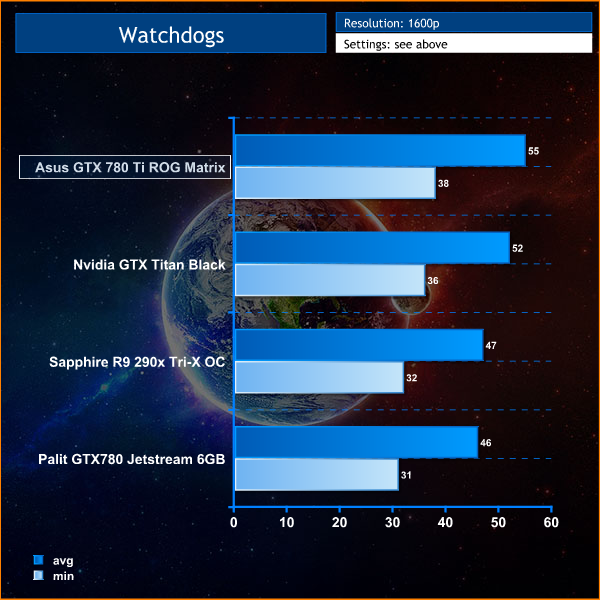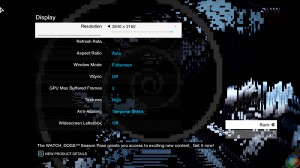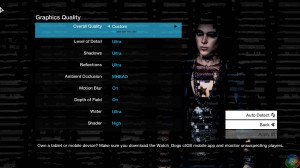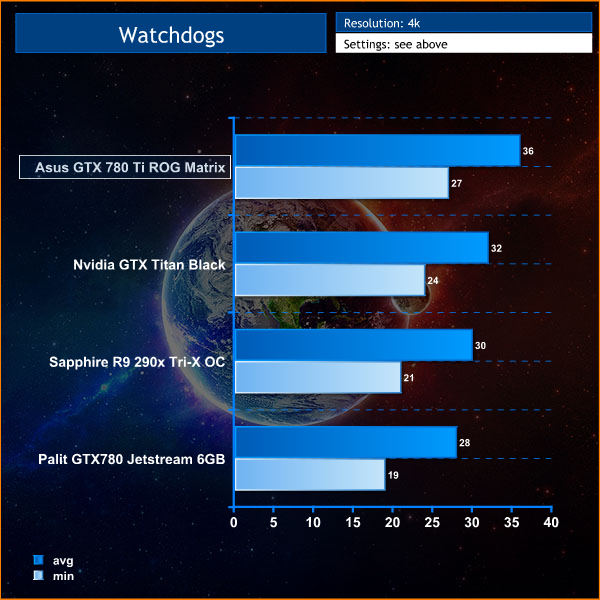 Not the greatest port across from console. At Ultra 4K resolution, it is clear the Asus GTX780 Ti ROG Matrix manages to maintain the smoothest frame rates, holding above 25 at all times.
Grid Autosport (styled as GRID Autosport) is a racing video game by Codemasters and is the sequel to 2008′s Race Driver: Grid and 2013′sGrid 2. The game was released for Microsoft Windows, PlayStation 3 and Xbox 360 on June 24, 2014.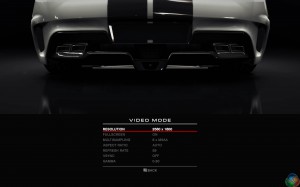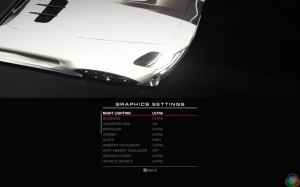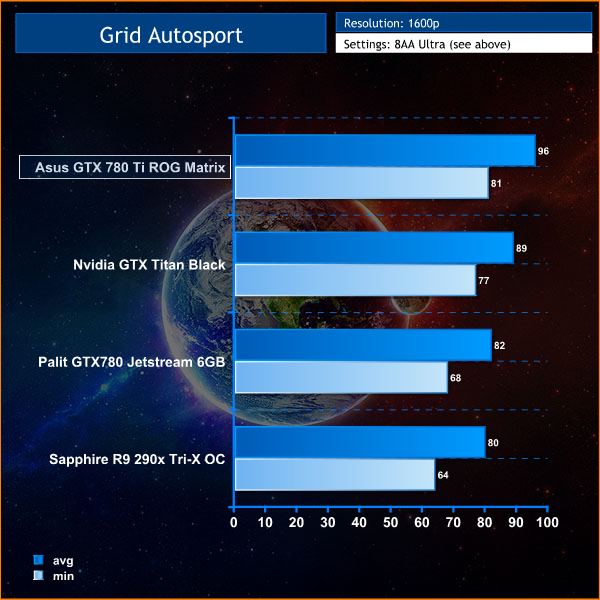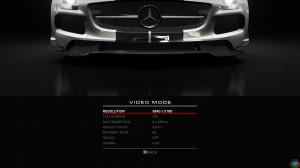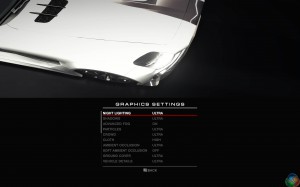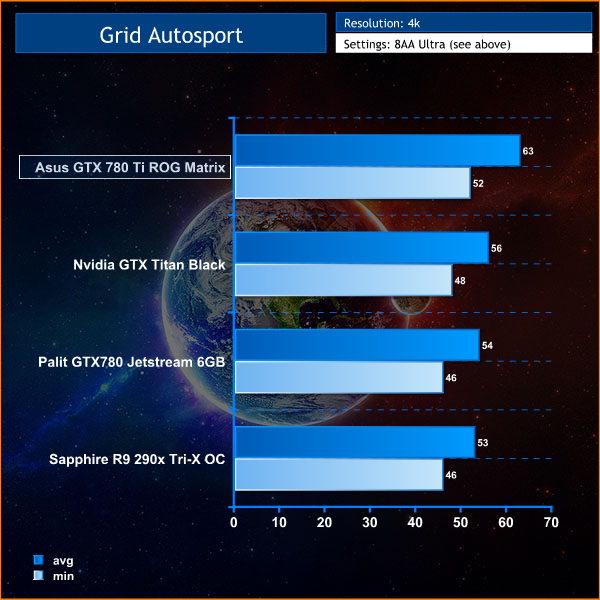 The engine doesn't really cause issues for any of the hardware on text today at 4K resolutions. The ROG Matrix card is clearly out in front, averaging 63 frames per second.
Three years after the events of Wolfenstein, the Nazis have developed advanced technologies in Wolfenstein: The New Order, enabling them to turn the tide against the Allies. In July 1946, U.S. special forces operative Captain William "B.J." Blazkowicz, accompanied by pilot Fergus Reid and Private Probst Wyatt III, takes part in a massive Allied raid against a fortress and weapons laboratory run by his arch nemesis, General Wilhelm "Deathshead" Strasse.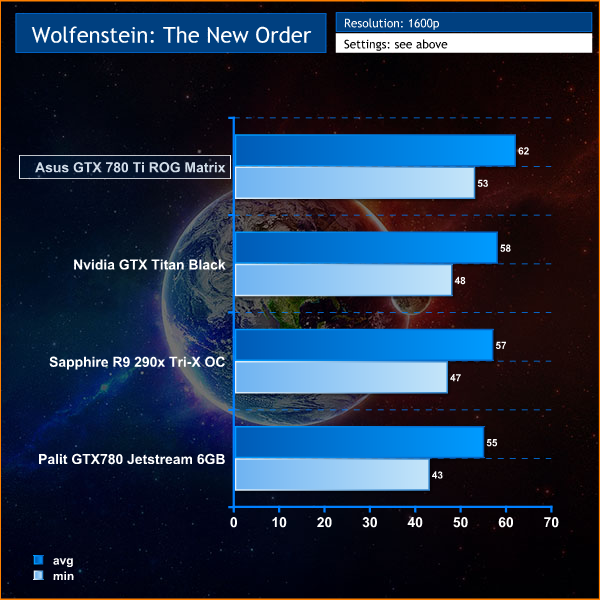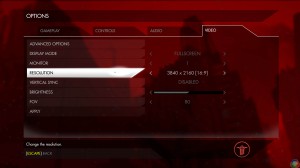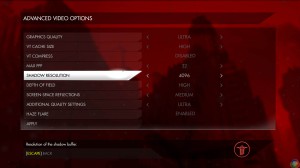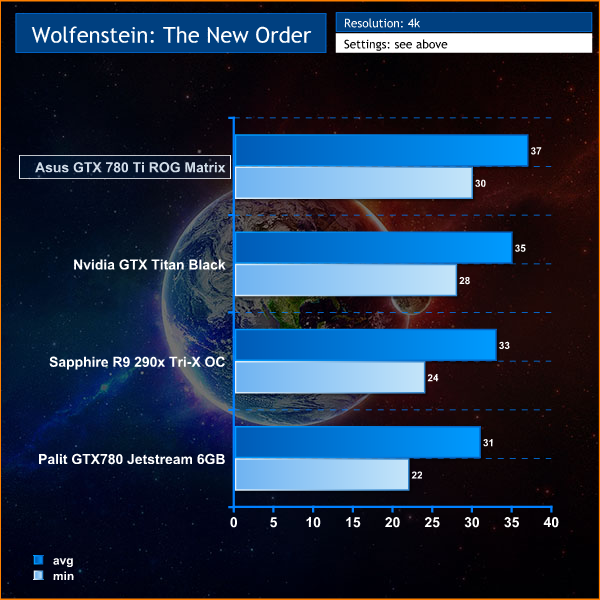 The Sapphire R9 290X Tri-X OC and Palit GTX760 JetStream 6GB struggle to maintain smooth frame rates at 4K resolution, dropping below 25 a couple of times. The Asus GTX780 Ti ROG Matrix takes top position in the chart, averaging 37 frames per second.
Total War: Rome II is set in classical antiquity, and focuses on portraying each culture of the classical era as accurately and in-depth as possible, as opposed to its predecessor, which portrayed many factions anachronistically. The grand campaign begins in 272 BC, and lasts for 300 years. However, the player also has the option to play further, as there are no timed victory conditions in Rome II.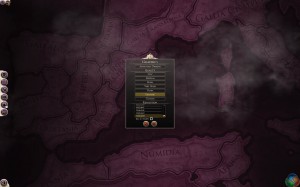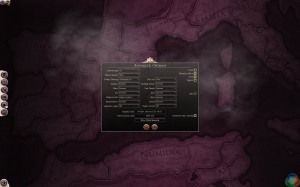 We test at the highest image quality settings at 1600p.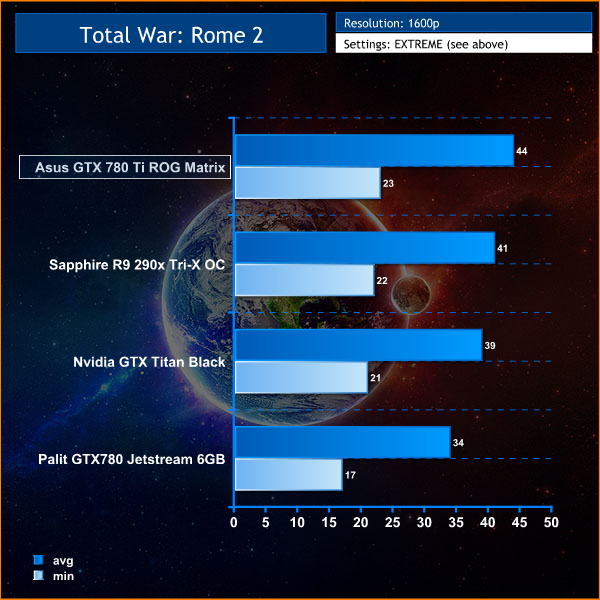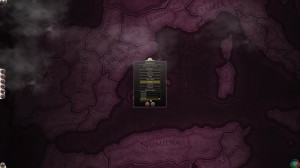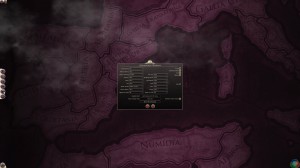 We need to drop the image quality settings from EXTREME, to get this game remotely playable at Ultra HD 4K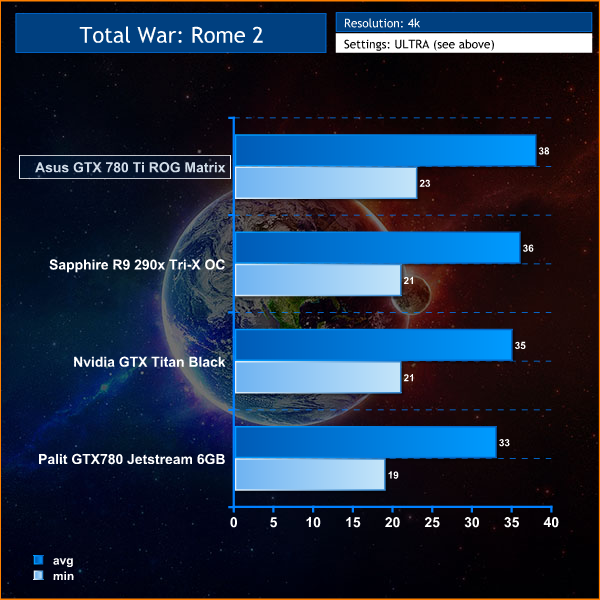 All of the solutions find this engine hard to power at these high image quality settings.
The tests were performed in a controlled air conditioned room with temperatures maintained at a constant 24c – a comfortable environment for the majority of people reading this.Idle temperatures were measured after sitting at the desktop for 30 minutes.Load measurements were acquired by playing Crysis Warhead for 30 minutes and measuring the peak temperature. We also have included Furmark results, recording maximum temperatures throughout a 30 minute stress test. All fan settings were left on automatic.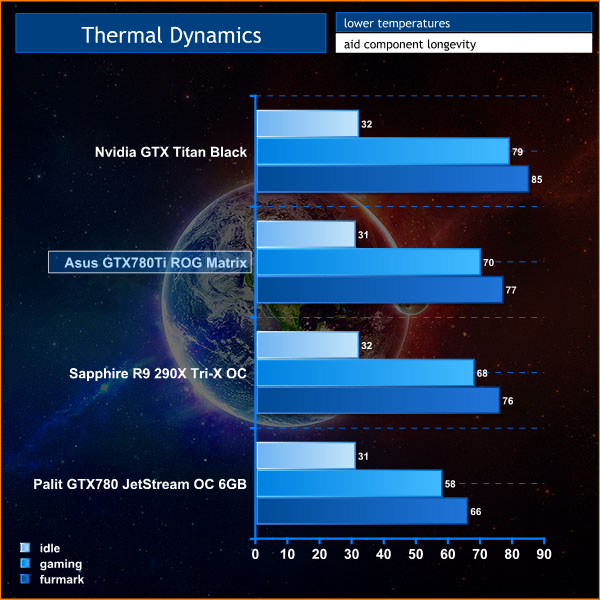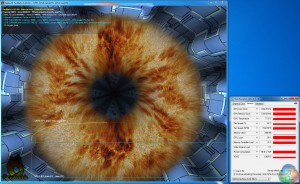 The cooler copes reasonably well, although it is noticeably outperformed by Palit's Jetstream cooler – fitted to both their GTX780 and GTX780Ti models.
We have built a system inside a Lian Li chassis with no case fans and have used a fanless cooler on our CPU. The motherboard is also passively cooled. This gives us a build with almost completely passive cooling and it means we can measure noise of just the graphics card inside the system when we run looped 3dMark tests.
We measure from a distance of around 1 meter from the closed chassis and 4 foot from the ground to mirror a real world situation. Ambient noise in the room measures close to the limits of our sound meter at 28dBa.
Why do this? Well this means we can eliminate secondary noise pollution in the test room and concentrate on only the video card. It also brings us slightly closer to industry standards, such as DIN 45635.
KitGuru noise guide
10dBA - Normal Breathing/Rustling Leaves
20-25dBA – Whisper
30dBA - High Quality Computer fan
40dBA - A Bubbling Brook, or a Refrigerator
50dBA - Normal Conversation
60dBA - Laughter
70dBA – Vacuum Cleaner or Hairdryer
80dBA - City Traffic or a Garbage Disposal
90dBA - Motorcycle or Lawnmower
100dBA – MP3 player at maximum output
110dBA - Orchestra
120dBA – Front row rock concert/Jet Engine
130dBA – Threshold of Pain
140dBA – Military Jet takeoff/Gunshot (close range)
160dBA – Instant Perforation of eardrum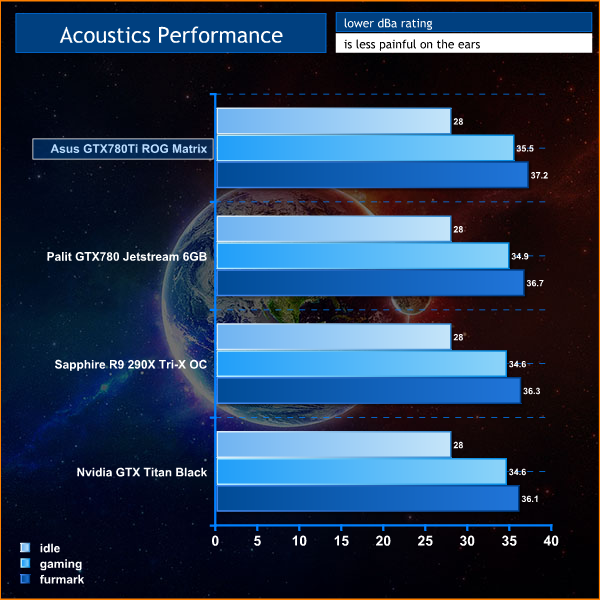 The Asus GTX780Ti ROG Matrix is clearly audible under load, but the fan noise isn't that intrusive due to the pitch of the fans.
To test power consumption today we are using a Keithley Integra unit and we measure power consumption from the VGA card inputs, not the system wide drain. We measure results while gaming in Crysis Warhead and the synthetic stress test Furmark and record both results.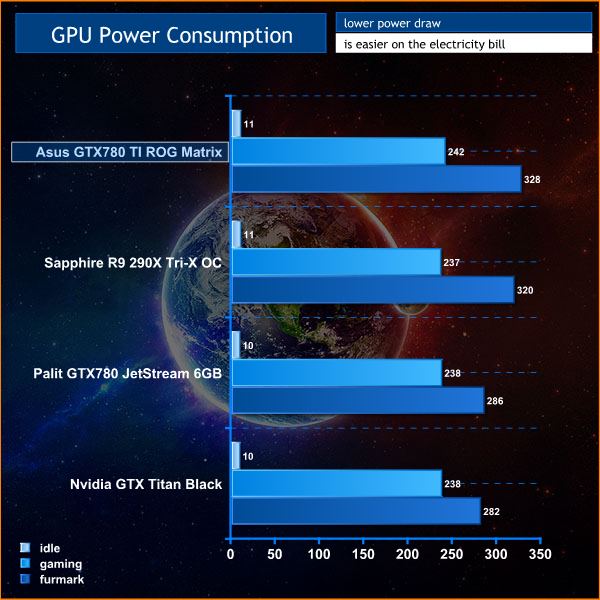 The card consumes around 240 watts under load when gaming.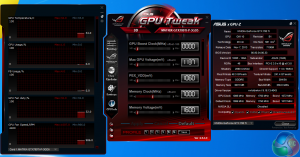 We used the latest version of ASUS GPU Tweak 2.6.4.0. available from their
website here
.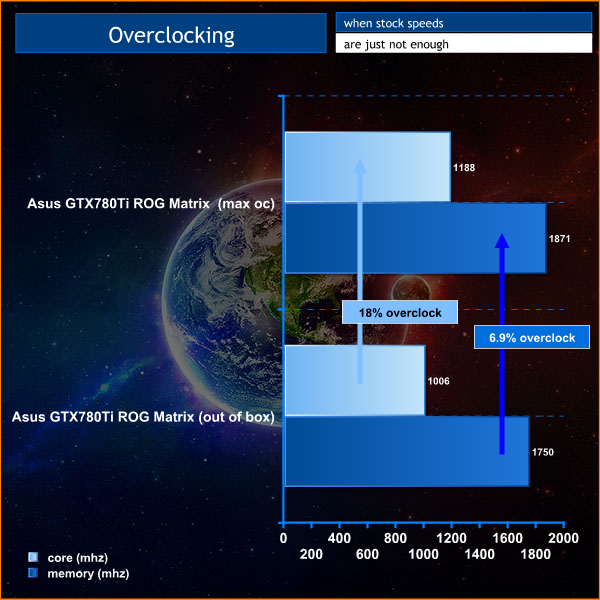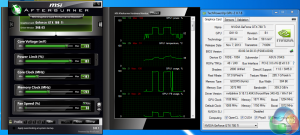 The latest version of ASUS GPU Tweak failed to overclock the core at all, resetting to a 0000 reading. MSI Afterburner (based on Rivatuner) worked fine, which is more than a little ironic!
We did manage to get the card stable at 1,220mhz, but there was minor artifacting until we backed down to 1,188mhz.
Time for a little preamble rant.
One of the biggest GTX780Ti issues for many gamers, is the somewhat limited 3GB of GDDR5 memory. This is continually brought up on our Facebook page by KitGuru readers. It is one of the primary reasons why the Nvidia GTX Titan Black has sold so well into the gaming sector – it is equipped with 6GB of memory. You may not need it right now for every game running at Ultra HD 4K, but 3GB isn't future proofed as we head into 2015.
I still believe Nvidia have marketed the Titan Black very badly, not sending out review samples to publications claiming the card was designed primarily for CUDA developers and professional users, but not gamers. This isn't Chinese whispers – I was told this on the phone when the Titan Black launched, straight from Nvidia PR. So I pulled favours with their partners and got samples sent to me, so I could review it when the product launched. At the time I said it was a great card with a fantastic reference cooler and my opinion hasn't changed.
However, every time we include an Nvidia Titan Black in one of these 'gaming' oriented reviews, a specific group of enthusiast users say we shouldn't. They have fallen hook, line and sinker for the Nvidia propaganda.
Official Nvidia webpages
detailing the GTX Titan Black say'Evolved from the award-winning GTX TITAN, the Black edition gives you the added horsepower to drive your most graphics-intensive gameswhile still maintaining whisper-quiet acoustics and cool thermals.'
This Nvidia page
on the official Geforce website claims 'GTX TITAN Black is the ultimate gaming GPU for a pure gaming experience'. Make up your mind Nvidia.
The older, less powerful GTX780 has been re-released with 6GB of memory, but the GTX780Ti still has to make do with only 3GB. Releasing a 6GB GTX780Ti would simply eat into too many sales of the more expensive Titan Black, and this is why they haven't, yet. Research has shown that over 80% of Titan Black cards are sold to gamers. I love Nvidia hardware and use a Titan Black in my own gaming system, but their pricing methodology can be very tough to justify.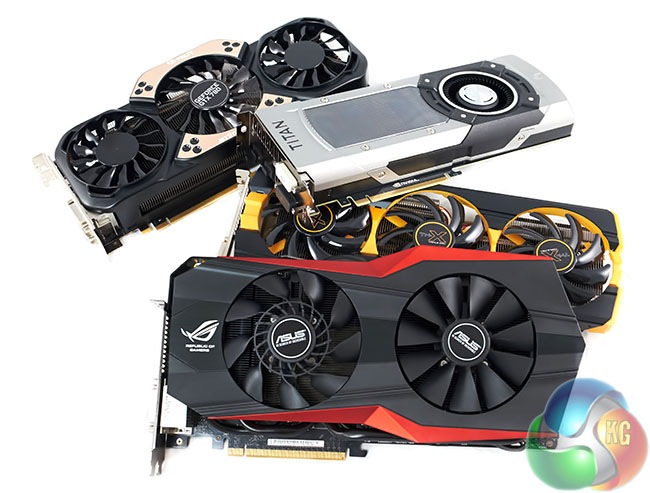 The Asus GTX780 Ti ROG Matrix is a well designed, performance graphics card that incorporates the highest grade components, such as Japanese made 10k black metallic capacitors. Republic Of Gamers products are usually very well engineered, and the ROG Matrix is no exception to the rule.
Nvidia have ruled the single GPU high end market with their GTX780Ti and Nvidia Titan Black now for some time, although many enthusiast gamers find the solutions just too expensive. Many of the GTX780Ti partner cards cost between £549.99 and £599.99 however the ROG Matrix solution is priced even higher, currently available in limited quantity at
£649.99 inc vat
from OverclockersUK. It is targeting a small audience.
If you are happy with one of the fastest AMD cards such as the Sapphire R9 290X Tri-X OC (which we included in this review today), you can get one on offer from Amazon right now at only
£395.90 inc vat.
It is certainly not as fast as the Asus GTX780 Ti ROG Matrix, but it is a staggering £250 cheaper.
I was a little disappointed with the overclocking capabilities of the ROG Matrix with the standard air cooling, it was clearly limited to just under 1,200mhz. To be fair, ASUS claim this card is designed to target the 'hardcore overclocking audience', namely those people using LN2. They say 'Memory Defroster is a brand-new feature that's designed to excite extreme overclockers. This clever technology quickly defrosts the graphics card's memory during below-zero overclocking to ensure sustained stability. Extreme overclockers will also appreciate the Matrix series' liquid-nitrogen (LN2) jumper switch, as it enables even more overvolting options – allowing the most adventurous users to unleash maximum greater power from their graphics cards.' KitGuru doesn't test with Liquid Nitrogen so we are unable to verify any of these claims.
We still think ASUS would get better out of the box performance by adopting a high grade triple fan cooler like Sapphire, KFA2 and Palit have, but we have mentioned this in reviews before and it seems unlikely to change anytime soon.
Performance from the ASUS GTX780 Ti ROG Matrix at Ultra HD 4K resolution is excellent, although if you are used to frame rates closer to 60 at 1080p, then be aware you would need to buy two GTX780Ti's – yep, silky smooth gaming at 4K is an expensive hobby.
You can pick up one of the ASUS GTX780 Ti ROG Matrix cards from Overclockers UK for
£649.99 inc vat.
Its a beautiful looking card, clearly designed for the hardcore overclocking audience who will ditch the cooler completely and use a dedicated watercooling kit or even LN2. It is well worth buying, but just falls short of our highest award.
Pros:
well built, including a backplate.
highest grade components used throughout.
ideal partner for 4K gaming.
Cons:
expensive.
three high grade fans would be better than two.