Chances are you already have several flash pen drives at home, either lying around on a desk or in a drawer. Smaller drives are ideal for flashing a motherboard BIOS and updating firmware, but the larger drives are more serious – used for backing up and moving large amounts of data between computers. It is true they are generally not the most exciting of devices however today we look at something very special from Corsair, a new flash drive they say is their fastest ever – The Voyager GTX.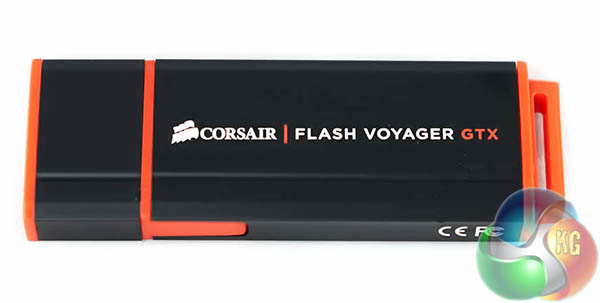 Corsair claim the new Flash Voyager GTX drives deliver 'SSD-Performance' in a thin USB 3.0 thumb drive. These drives incorporate a fully fledged SSD controller. The theory is that the performance should be significantly improved over a traditional design, all without suffering from heat issues.
While we don't have confirmed pricing as I write this, we have been told that UK prices should be around £95 inc vat for the 128GB version and £185 inc vat for the 256GB version. They are therefore very expensive flash drives, so they will need to deliver plenty of performance to justify the cost.
'It is simply the fastest USB drive we have produced'. say Corsair. So what kind of speeds can we expect according to Corsair?
Their literature states that the drives can deliver performance in excess of 430 MB/s when reading and over 350 MB/s when writing. One of the fastest flash drives we have tested to date is the Patriot SuperSonic Magnum – way back in
February last year
. This drive has been such a potent product that we have used in many of our motherboard and system reviews since – to test USB 3.0 performance.
Can the Corsair Flash Voyager GTX 128GB trounce the Patriot SuperSonic Magnum and claim the top performance slot?
Specifications:
Unformatted Capacity: 128GB / 256GB.
Max Sequential Read (ATTO): Up to 450MB/s.
Max Sequential Write (ATTO): Up to 360MB/s.
Max Sequential Read (CDM): Up to 430MB/s.
Max Sequential Write (CDM): Up to 190MB/s.
Interface Type: USB 3.0.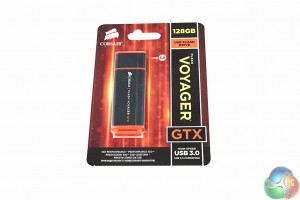 Corsair packaging is always very appealing, and effective. The Flash Voyager GTX drive ships in a small blister pack with the drive itself protected behind some thick, durable plastic.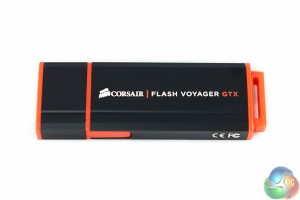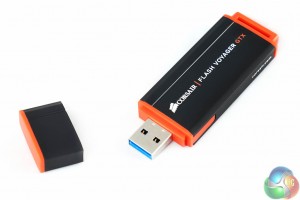 An attractively designed unit, small and thin and actually very similar in design to the Patriot SuperSonic Magnum. There is a removable header cap to protect the USB 3.0 connector.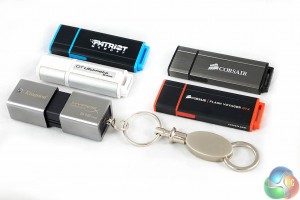 Above, some of the Flash drives we use in KitGuru on a regular basis – for moving files and creating backups. When the Corsair Flash Voyager GTX 128GB is formatted in Windows, 119GB is available to the user.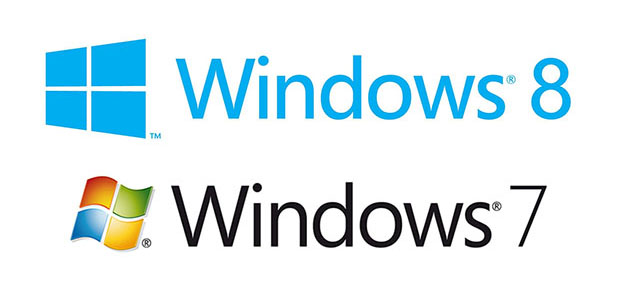 Windows 7 or Windows 8? Seems a weird place to be discussing operating systems, but there is a reason – and it became clear very early in our testing that there are some rather huge differences between the 'out of the box' operating systems when using the Corsair Flash Voyager GTX flash drive.
The general public may not be aware, but Corsair supply 'review guides' with all the products they send to the press. The information in these review guides can be useful as they can give an indication of the results you should be expecting. Our own results weren't close to Corsair's internal tests and the problem was in fact due to Windows 7.
Not many readers will know this, but Windows 7 lacks native support for UASP, and it requires motherboard driver support. Windows 8 supports UASP natively. Without this UASP driver installed we found that the Corsair Flash Voyager GTX 1228GB was performing around 35% slower than the official Corsair figures.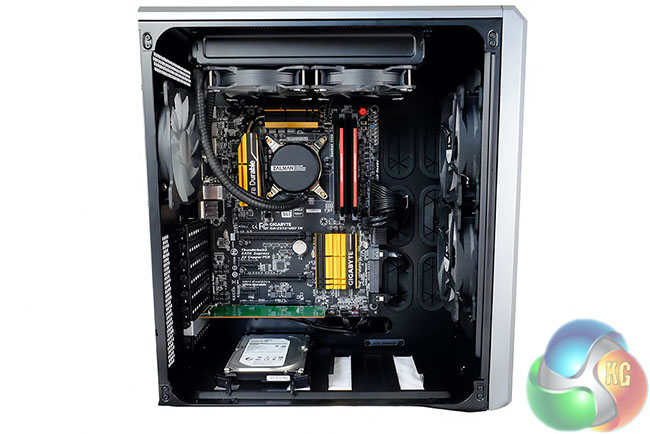 We recently upgraded our test systems to incorporate new, high end GA Z97X-UD7 motherboards from Gigabyte along with Intel's latest i7 4790K processor. The systems were built to our specifications, courtesy of DINOPC. You can read an article on this test system, over
HERE
.It shipped, at our request, with Windows 7 64 bit installed.
When we first noticed performance issues in Windows 7 we immediately contacted Gigabyte to inquire about a UASP driver for Windows 7. They said they will be discussing this and perhaps including a compatible driver in the future. Nothing solid, but at least they took our approach seriously.
So we opted for dual boot on the new test system, with Windows 8.1 as the secondary operating system. Our review today shows performance from the Corsair Voyager GTX 128GB in both Windows 7 and Window 8.1 environments. It certainly makes for interesting reading. All other drives were tested in Windows 8.1 as performance results were identical with these drives on both operating systems.
If you haven't 'upgraded' to Windows 8 yet, it is worth checking with your motherboard manufacturer for an available Windows 7 UASP driver. As you will see shortly, you really do not want to be running one of these new super fast Corsair flash drives in Windows 7 without proper UASP support. Installing Windows 8.1 will be the best way to ensure you are getting 100% performance from the drive.
We approached ASUS, ASROCK and MSI to ask them about their support for Windows 7.
ASUS were the first to reply. They confirmed they do support UASP in Windows 7 under their own 'USB 3.0 boost'. You can read more about this, over
HERE
. We did test the Corsair Flash Voyager GTX 128GB with an ASUS Z97 motherboard and performance in Windows 7 was identical to Windows 8. Kudos to ASUS for their efforts to support the older operating system.
MSI have removed support for the UASP driver – Windows 7 users will have to suffer from performance degradation when using the Corsair Flash Voyager GTX 128GB drive. They sent us over some detailed internal reports, but basically the speed benefits will only show in Windows 8.
ASRock have yet to comment on possible future support. We do know they had 'XFast USB' which is worked great in the past. It has been dropped for their 9-series boards however, which is really disappointing.
To test the drive performance today we are using the new system we had built to our requirements by DINOPC. You can get specifications and read more on this system
over here
.
Before analysing these results, we advise you to read the Windows 7 and Windows 8 UASP information on the previous page.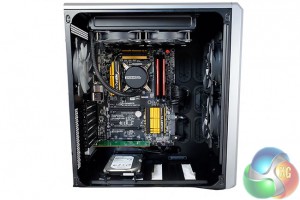 Operating systems:
Windows 7 – 64 bit (just the Corsair Flash Voyager GTX128GB when indicated).
Windows 8.1 – 64 bit (all drives)
Comparison Products:
Corsair Voyager GS 128GB
Kingston DataTraveler HyperX Predator 512GB
Kingston DataTraveler HyperX 3.0 64GB
ADATA Nobility N005 Pro 64GB Flash Drive.
Kingston 64GB DT Ultimate Drive.
1TB USB 3.0 Toshiba HDD.
We perform each test multiple times to ensure that abnormalities don't enter into the test results.
The next stage is to analyse the performance of the drives with some of the best software available online. Crystalmark is a useful benchmark to measure theoretical performance levels of hard drives and SSD's.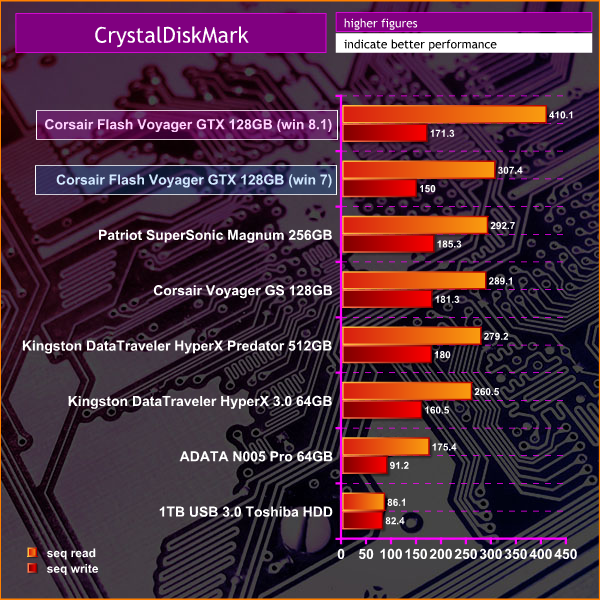 There is a rather telling performance difference between Windows 7 and Windows 8.1 with the UASP driver in action on the Gigabyte Z97 motherboard. Performance increases from 307 MB/s to 410.1 MB/s in the sequential read test for instance.
4K and 4K QD32 performance is also exceptionally high for a USB 3.0 flash drive. Compare against the older Patriot Supersonic Magnum 256Gb drive and you can see the gains achieved by using a fully fledged Solid State Drive controller.
The ATTO Disk Benchmark performance measurement tool is compatible with Microsoft Windows. Measure your storage systems performance with various transfer sizes and test lengths for reads and writes. Several options are available to customize your performance measurement including queue depth, overlapped I/O and even a comparison mode with the option to run continuously. Use ATTO Disk Benchmark to test any manufacturers RAID controllers, storage controllers, host adapters, hard drives and SSD drives and notice that ATTO products will consistently provide the highest level of performance to your storage.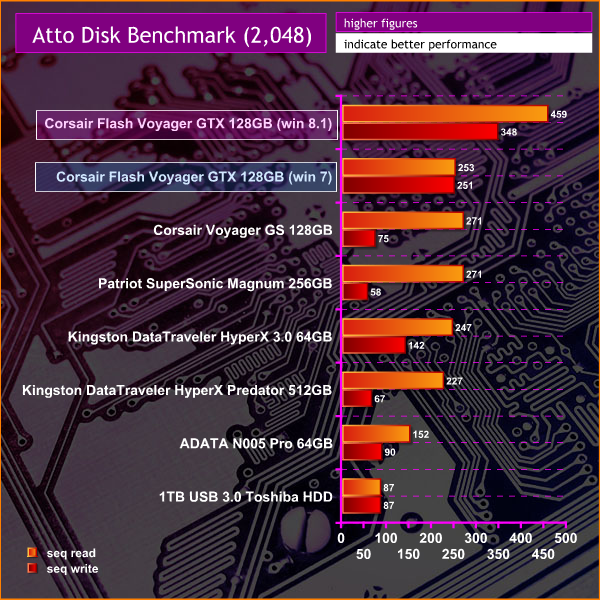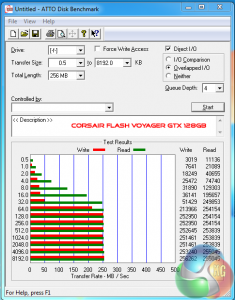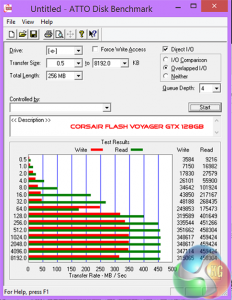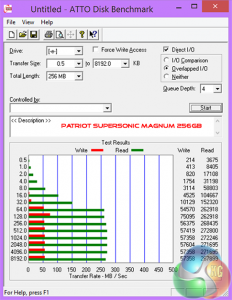 The Corsair Flash Voyager GTX 128GB is unquestionably top of the performance chart. With the UASP driver operating in Windows 8, performance is dramatically boosted to 459 MB/s and 348MB/s in the sequential read and write tests respectively.This page includes 'real world' results. These are not quite as scientific as the tests on the last page, however they are exactly what you will do if you buy one of these drives.
First we copied a folder containing 12 MKV files, totaling 8GB in size to a OCZ RevoDrive 350 PCIe (
review here
). We copied them to and from each of the drives.
We record the time taken to work out the MB/s transfer rate as accurately as possible. We perform each test multiple times to ensure that abnormalities don't enter into the test results.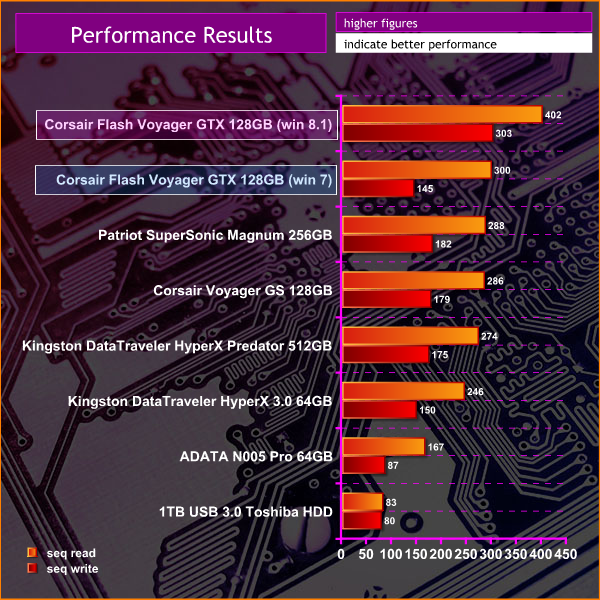 The Corsair Flash Voyager GTX 128GB drive held the top position in our graph, with noticeable gains in Windows 8.
Next we copied a folder with many mixed files, ranging in size from simple text based Word documents to several 100 MB video files. The folder size is 3GB. We record the average time taken then work out the speeds of the drives.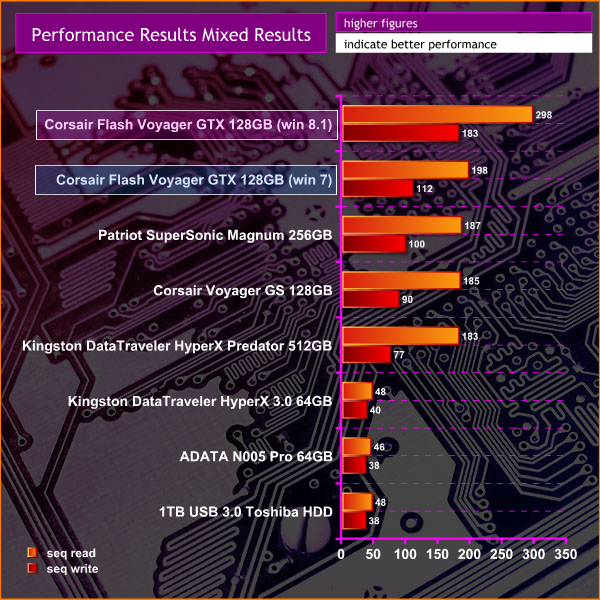 Performance drops when the files are smaller and more densely packed in the folder. The new Corsair Flash Voyager GTX128GB is way out in front when running via Windows 8.
Our review today of the Corsair Flash Voyager GTX 128GB has raised interesting points which are worth some discussion.
Firstly and most importantly, there is no doubt that Corsair have created one of the fastest portable flash drives … ever. The Corsair Flash Voyager GTX 128GB is Usain Bolt on steroids. By incorporating a fully fledged SSD controller the new Voyager GTX is pushing USB 3.0 flash drives into completely new performance territory.
Unfortunately, as indicated earlier in our review, achieving maximum performance hasn't been a simple case of just slotting the drive into the closest USB 3.0 port.
Windows 7 was the cause of our initial performance issues – due to unavailable UASP drivers, related to the Gigabyte Z97 GA Z97X-UD7 motherboard we are using in one of our new 2014 test systems. MSI and ASRock Z97 boards have the same issues in Windows 7. ASUS are the only major motherboard manufacturer who include full UASP support. Most of us know it already as 'Asus USB 3.0 Boost' – and it works great, even with Windows 7. You can read about it
over here
. To be fair, Gigabyte took our approach seriously and are currently discussing if they will include a UASP drive to support Windows 7 in the near future.
In a nutshell, the easiest way to get maximum performance from the Corsair Flash Voyager GTX 128GB drive is to install Windows 8.1. The latest Microsoft operating system may not have received the warmest of welcomes from a large portion of the enthusiast audience, but it has native support for UASP. Without UASP support, the Corsair Flash Voyager GTX 128GB throughput drops by around 35%. These arestaggering differences.
So, is the Corsair Flash Voyager GTX 128GB worth the £95 asking price? It is an easy question to answer.
If you need to backup large amounts of data or move files quickly between multiple systems then we give it a resounding thumbs up. There is no other portable USB 3.0 flash drive we have tested which performs at a similar level. 4K IOPS performance is also significantly ahead of other flash drives we have tested.
Obviously with cutting edge technology, there is a premium to pay. In this case around £20, when compared to other high grade USB 3.0 flash drives such as the Voyager GS 128GB, available for
£75 inc vat
at OverclockersUK. Just make sure you are either running Windows 8.1 or have UASP drivers available for your motherboard.
Pros:
Crazy levels of performance.
4K performance is excellent.
fully fledged SSD controller.
runs cool.
small form factor.
nicely finished.
decent pricing considering the capacity, physical size and performance.
Cons:
Windows 7 without UASP support? be prepared for a huge performance hit – or install Windows 8.1