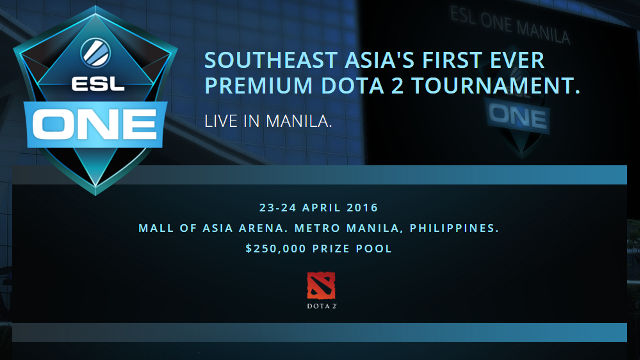 Get ready for the biggest Dota 2 action here in the Philippines with ESL One Manila 2016, the first premium Dota 2 tournament in Southeast Asia. Witness the world's top Dota 2 teams compete for $250,000 prizepool (Php 11.7 million) at the Mall of Asia Arena on April 23-24 2016.
ESL One Manila together with PLDT Fibr & Smart GameX will host the largest eSports competition in the country. According to Ulrich Schulze, VP Pro Gaming at ESL, deciding on the location of the tournament for Southeast Asia was easy.
"[The Philippines] is a country and community that loves Dota 2, and we're honored to be able to say we're making history with this event: it's the first event of its kind in the region and we can't wait to see fan reactions to what we have in store," said Schulze.
ESL One has hosted Dota 2 tournaments from Frankfurt to New York. Their events have been attended by thousands and supported by millions through livestreams on the internet.
The tournament will feature eight teams from all over the globe, competing in a single elimination format. Two teams will get a direct invite based on their past performance while the other participants will be chosen from an online qualifier: one team each from China, Europe, the United States and the Philippines. The two remaining teams will come from Southeast Asia.
If you don't want to miss this opportunity to meet your favorite Dota 2 players and watch your favorite team live, tickets will be available on December 8 at 6 p.m. PHT