One of the big stories of this week in the hardware world, was that thanks to a quick BIOS update,
ASRock users could overclock non-K series Skylake CPUs
for the first time. Unsurprisingly, other motherboard manufacturers weren't far behind and MSI has now released updates for all of its Z-170 mobos to make them capable of applying clock speed boosts to all Skylake CPUs.
As with ASRock's BIOS tweaks, this one does only unlock CPU BCLK overclocking, so don't expect to be adjusting multipliers. It is also limited to those using add-in graphics cards and the Turbo Boost feature will be disabled in the new BIOS.
Announced on the HWBot forums, MSI gave users a list of supported motherboards and provided a link to a list of
BIOS update files
which can be downloaded easily and freely. Pretty much every Z-170 motherboard from MSI is supported, so if you have one of them and a non-K Skylake CPU and would like a few extra MHz without much trouble, this might be worth your time.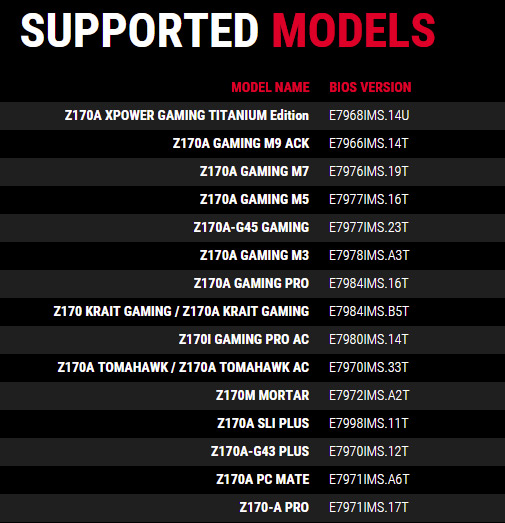 Just consider that your cooling will be pushed and you will reduce the life of your CPU depending on how much you push it.
MSI provided its own disclaimer on the matter, stating:
"Overclocking Intel non-K CPUs is not officially supported by Intel and the BIOS versions created by MSI unlocking this option are all beta versions. Intel may choose to disable this option at any time. At no point MSI can be taken responsible for disabling overclocking for non-K CPUs."