The phone won't be launching for a long time yet, but that just means Samsung should have time to implement some of our suggestions. Here's hoping it listens.
We're also collecting all the rumors and news about the phone, along with our own educated guesses, so read on for all the latest on Samsung's upcoming flagship.
Cut to the chase
What is it?

Samsung's next flagship smartphone

When is it out?

Early 2017

What will it cost?

Maybe around $850 (roughly £655/AU$1120)
Samsung Galaxy S8 release date
A February 26 announcement
An earlier launch than usual
...or it could be delayed until April
The Samsung Galaxy S8 is certain to launch in early 2017, since the beginning of the year is typically when Samsung rolls out its new flagships.
The last couple of years the brand has shown off the phone the day before Mobile World Congress starts, with MWC 2017 set to kick off on 27 February... meaning a Galaxy S8 release date of February 26.
In terms of when you'll be able to fondle it for the first time, expect a two week wait - so March 13 is our best guess there.
We got bored of waiting so we spent some time creating our own video render - here's how the phone should look:
Samsung Galaxy S8 news and rumors
The trickle of information on the Samsung Galaxy S8 is slowly growing into a stream, though we're still waiting for strong rumors on what actual components and design we might see - but we're able to take a very good guess.
We've divided our thoughts up into sections below, but likely highlights include a 4K screen, a Snapdragon 830 processor, 6GB of RAM and a massively improved camera.
There's even a chance that the Samsung Galaxy S8 will have an iris scanner or a foldable screen, though the latter is somewhat less likely.
Samsung Galaxy S8 screen
No flat version
A 4K display
5.1-inch and 5.5-inch sizes, or 5.7 and 6.2-inch sizes
QHD, as we have on the Samsung Galaxy S7, is more than sharp enough for using it as a phone, but it's not quite up to scratch for VR, so it makes sense for Samsung to push the resolution up for at least one version of the Samsung Galaxy S8.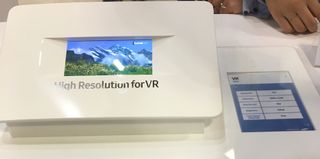 Given that Samsung recently showed off a 5.5-inch 4K display that could be the size the S8 comes in.
There's also the Always On Display (AOD), a feature that debuted with the Galaxy Note 7. This feature has been hugely improved on the new Note, with more pictures added to the mix and a richer display hanging about on the phone when it's turned off.
Future updates to the AOD mean that it should become even richer for the Galaxy S8, with third parties able to add their own widgets to the screen.
Samsung Galaxy S8 design
A similar but refined design
And a completely new design is always possible, but if it does have one it could take almost any form. Well, any form that's basically a rectangle anyway.
Samsung Galaxy S8 camera and battery
A dual-lens camera
A 30MP rear camera
An 8MP front-facing snapper
A 4200mAh battery
That extra width could allow more light in and the jump in megapixel count could allow for more detailed images, though while Samsung is apparently working on this camera it hasn't been specifically linked to the Galaxy S8 yet.
The front facing camera could also be in for a change, with the same Weibo source as above claiming that the Galaxy S8 will have an 8MP camera on the front, up from 5MP on the Galaxy S7.
So far the feature is only available on the Samsung Galaxy J2, but there's a chance Samsung will use it in the Galaxy S8 as well.
The Galaxy S7 has a 3000mAh juice pack and with any luck the battery in the S8 will be even larger, or at least more efficient. It might need to be if Samsung pushes the screen resolution up.
Samsung Galaxy S8 OS and power
A 3GHz Exynos 8895 processor in some regions
A 3.2GHz octa-core Snapdragon 830 chip in the US
6GB of RAM
The Snapdragon 830 isn't official yet, but it has been rumored and is the likely name for the next major flagship smartphone chip from Qualcomm. It's likely to be faster, smaller and more efficient than the Snapdragon 820 – or at least those are all areas Qualcomm will probably try and improve.
That said, Samsung also makes its own Exynos chips and with the Galaxy S7 some regions got those and others got the Snapdragon 820, so the same is likely to happen with the Galaxy S8.
With Nvidia behind some of the most powerful processors around and AMD's architecture at the heart of the PS4 Pro, a move to either of these companies could give flagship Exynos chips a performance boost.
That extra power will really come in handy if Samsung plans to put a 4K screen on the Galaxy S8 or use it for high-end VR content - our betting is that both Samsung's and Qualcomm's chips will be heavily focused around making VR the best experience it can possibly be, which will be a boon for Gear VR wearers.
Samsung Galaxy S8 other features
An iris scanner and AI assistant
No headphone jack
A fingerprint scanner in the screen
Dual stereo speakers
But its inclusion isn't guaranteed, as it doesn't really add a lot beyond a 'hyper' level of security that some people would need on the Note 7, given it's part enterprise device. That said, the scanner never got much of an outing with the Note 7 being killed, so Samsung is likely to want to give it a chance.
Other than those features, a reversible USB Type-C connector is likely now it's appeared in the Galaxy Note 7, and Samsung is likely to continue offering the features its flagships are known for, like an always-on screen (with enhancements), a microSD card slot and a waterproof body.
Samsung Galaxy S8 price
More expensive than the Galaxy S7
....or the same price as the S7
The earliest cost rumors claim an $850 (roughly £655/AU$1120) SIM-free price for the Samsung Galaxy S8.